Pop your cork! 11 things you didn't know about Champagne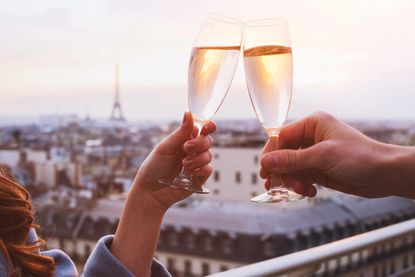 "I only drink Champagne on two occasions: when I am in love, and when I am not", Coco Chanel famously quipped. Sound familiar? Yes, we'll take any excuse to fill a glass too. Here are a few of our favourite facts about Champagne - a little trivia for when you next pop your cork...
1. It's officially essential to our wellbeing
In 2015, Unesco - the international council which protects the likes of the Great Wall of China and India's Taj Mahal - declared that the vineyards and cellars of Champagne were of "outstanding value to humanity". We won't argue!
2. Its fields are pricey
The Champagne region boasts some of the most expensive agricultural land in Europe, because only wines produced in the region are allowed to be called 'Champagne'.
Even if a vineyard replicates the exact techniques used to create Champagne, it can only call its wine that if the process actually took place in the region. If its vines or cellars are elsewhere, it can only call its plonk "méthode Champenoise" - no matter how good it is.
During the First World War, Winston Churchill apparently told British troops: "Remember gentlemen, it's not just France we are fighting for, it's Champagne".
3. We're going to Champagne - and you're invited
We've designed a long weekend trip to Champagne, especially for our readers - with wine tastings and vineyard visits galore. You'll even have a private party atthe glitzy headquarters of famous Champagne house Taittinger – sipping on on some of their finest vintages while enjoying canapés and a tour of their iconic chalk cellars. This extravagant weekend of superb food and wine is the ultimate treat if you love your bubbles - and with fellow w&h readers, you'll be in great company! See the details
4. It has a day dedicated to it
20 October 2017 is International Champagne Day. Though, to be frank, every day is Champagne Day in our book.
More like this: 12 of the tastiest wine tours and cooking holidays
5. Popping the cork is so passé...
It's much more fun to slice the top of the bottle off with a sword. Napoleon Bonaparte started the trend in the 18th century when his army were celebrating victories, and it's still done in ceremonies all over the world today (some Champagne tours will give you a demonstration). "Champagne! In victory one deserves it, in defeat one needs it," Napoleon once said - he was clearly a big fan.
6. You can get there quickly by train
It takes just 3 hours and 25 minutes to get from London St Pancras to Champagne-Ardenne on France's high-speed rail network. Maybe it would take you a little longer on the way back, when you're laden down with bottles...
More like this:Escape your comfort zone! 10 adventurous holidays to take this year
7. Marilyn Monroe used to bathe in it
Legend has it that movie star Marilyn Monroe would fill up her bath tub with 350 bottles of bubbly. We hope she had a straw...
James Bond also loves Champagne. In the films, he drinks it more times than he does his favourite Martini, and in the books he's known to swig Dom Perignon, Krug, Veuve Clicquot and more - though he admits at one point that "Taittinger was just a phase of mine".
8. Ancient sea-creatures are the secret
The Champagne region was once submerged beneath a prehistoric sea. The ancient remains of the marine life give the soil its nutrients - and local producers swear that it's this rich foundation that makes their vines the best.
9. The more bubbles, the better
'Collerette' - the trains of bubbles that appear on the side of a glass - are a sign that you're drinking the good stuff. The number of bubbles increases with the quality of wine.
More like this: The 8 trips that every woman should take in her fifties
10. Its cork can reach 25mph
The pressure inside an unopened bottle of Champagne is around three times that of a car tyre: approximately 100psi. If you shake a bottle before opening, its cork can pop at up to 25mph - so watch out! A bottle of Prosecco has roughly half the pressure of a bottle of Champagne.
11. The grapes are picked by hand
In order to officially qualify as Champagne, the wine production process must meet certain criteria. The grapes must be picked by hand, double fermented, and be aged at least 15 months (or 36 months for vintage Champagne) - all of which means that it's devilishly expensive to produce.
To make one 750ml bottle of Champagne, you'll need to hand-pick 1.2kg of grapes - which gives us cramp just thinking about it. Contrary to popular belief, the grapes don't need to be pressed underfoot.
All images from Alamy