11 things I've learned after taking 1,100 cruises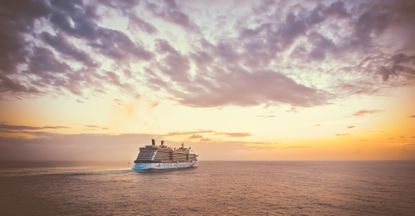 The choice of cruises, ships, and companies is bewildering. That's why Douglas Ward started the Berlitz Cruising and Cruise Ships guidebook some 34 years ago - to offer advice on choosing the right ship and cruise line, for the right reasons.
After taking and/or participating in more than 1,100 cruises here are some of Douglas's top insights and tips that might help you when booking your first (or next) cruise.
1. Ships vary in size and quality
Not all cruise shops are made equal, so it's important to choose the right size ship to suit your tastes. The large resort ships (for 2,500-6,500 passengers) have oodles of entertainment, activities, casinos, sports and other facilities for families with children. Mid-size ships (751-2,500 passengers) tend to have fewer entertainment options, but with enough public rooms, often including spa facilities.
Small ships (for 251-750 passengers) are best if you don't want big stage entertainment and prefer a quieter environment and only a sprinkling of children (some ships are adults-only).
More like this: River cruises vs ocean cruises: which is right for you?
For total relaxation, look out for boutique ships, which carry up to 250 passengers, offer fine food and excellent personal service. There are also niche-market ships for expedition cruises, and sail-cruise ships for a very different experience (mostly carrying under 300 passengers).
But for something completely different, consider a river cruise.
Read more:8 of the most relaxing river cruises
2. Travelling light is right
Over the years I have learned to travel light, and choose good quality clothing that can be layered to suit the region I am cruising in. It's important, though, to choose the right shoes – because ships are moving objects (think low, not high).
3. You should pack these essential items
I always take a good book or two with me on long flights or cruise, for any long (or unexpected) delays or waiting periods, and a pedometer (it's amazing how many steps you take aboard some of the larger ships!
4. You have to go with the flow
You must be prepared to be flexible and able to adapt to possible changing weather, itinerary, and other conditions once on board.
Read more:10 holiday booking hacks and tips to get the best deals
5. Each ship has its own personality…
…which depends almost entirely on the crew.
6. You have to choose the right cruise company
There are differences between the cruise companies regarding the level of hospitality, food and service standards each provides. For example, you'll find fresh flowers on board the likes of Hapag-Lloyd Cruises, Holland America Line, MSC Cruises and Silversea, rather than the plastic displays on Norwegian Cruise Line or Ponant.
If you prefer the finer things in life, you might want to book with Cunard, Fred. Olsen or MSC Cruises, all of which offer sit-down dining with tablecloths. Buffet- or bistro-style dinners are more common on lines like AIDA Cruises and Carnival.
7. You might not always dock where you expect
Some companies are cheap when it comes to docking spaces. For example, some ships will dock at cargo berths (think cranes, noise, and unsavoury aromas), even when proper cruise berths are available.
8. Restaurants are getting better
Many ships now offer several dining options - most at extra cost. While this gives more choice, it means planning ahead to decide where you want to eat and when.
9. There's more to spend money on
I see more and more "pay extra" items creeping in aboard the large resort ships. This is changing the image of inclusive cruising completely - and not for the better.
10. Cruises are great for families
With larger ships, more families with children now cruising because of the excellent value and crime-free environment. The increase in facilities for them has been quite dramatic. Some companies are particularly good at providing a wide range of activities for children, and among the best are Carnival Cruise Line, Disney Cruise Line, Dream Cruises, MSC Cruises, Norwegian Cruise Line and Royal Caribbean International.
11. Cruising is great for making friends
Over the years I have met and talked to many, many fellow passengers. Some have become life-long friends. Indeed, I even met my wife aboard a cruise ship!
Douglas Ward is the author of Berlitz Cruising and Cruise Ships 2019 and River Cruising in Europe and the USA.
Sign up to our free daily email for the latest royal and entertainment news, interesting opinion, expert advice on styling and beauty trends, and no-nonsense guides to the health and wellness questions you want answered.