The Downton Abbey Home You Can Buy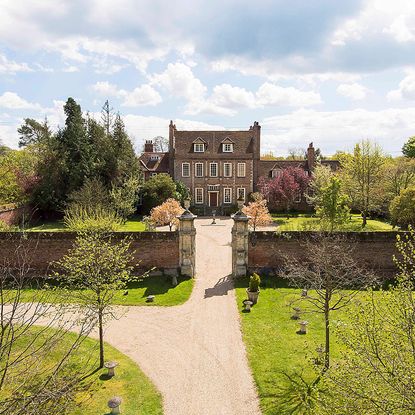 Fancy buying your very own slice of Downton Abbey? Now you can. Byfleet Manor, in Byfleet, Surrey, which is the film location for the TV series' Dower House, hit the market earlier this month.
The Grade II* listed mansion, where Lady Violet and her sharp tongue rule supreme, has been the backdrop to some of Downton Abbey's best scenes and most memorable quotes. But look closely, and you may catch more than a glimpse of Byfleet Manor elsewhere on TV and at the cinema - it has starred in the BBC's Cranford, Agatha Christie's Poirot and, most recently, as Cinderella's home in Into the Woods.
However, the Downton Abbey home has also seen some real-life drama. In the 14th century, Byfleet often played host to King Edward II and was almost certainly one of the settings of the deadly intrigue that saw Queen Isabella, the She-Wolf of France, and her lover, Richard Mortimer, pitted against the king in a bitter feud that ended with Edward II's death.
When Isabella and Edward's son, Edward III, wrestled power back into his own hands, he had Mortimer killed and skilfully side-lined his mother, giving her Byfleet Manor as part of her dower settlement - and essentially making her the original Lady Violet.
A hundred years later, another king, Henry VIII spent some of his childhood at the estate and later gave it to his former wife, Catherine of Aragon, when they divorced. Byfleet's last Royal owner was the Queen Consort Anne of Denmark, wife of King James I.
The house as it stands today was built a little after Queen Anne's death, in 1686, but also incorporates some earlier features, such as a heavy timber staircase and some fine fireplaces.
Although Lady Violet calls the Dower House her "little cottage", Byfleet Manor is anything but modest. It has eight bedrooms, four reception room (including Lady Violet's famous drawing room) plus 19 acres of beautiful gardens and grounds - and a good few secrets.
A couple of years ago, the estate's current owners discovered a secret room hidden beneath the floorboards. The room, which was beautifully wallpapered yet had a bricked-up window, may have been a priest hole, although romantically minded people might prefer to think it could have been a lover's hideaway. Nor is this Byfleet's only mystery. The house is also thought to have a concealed tunnel linking it to the now demolished Newark Abbey.
"This is certainly an iconic home and its appeal will be far reaching," says Paul Finnegan of Savills. "We're expecting interest to come from all quarters."
The asking price for Byfleet Manor is £3.95 million. For more details, contact Savills (opens in new tab).
Carla Passino is a multimedia journalist with more than seventeen years' experience in national and international media.
Carla's primary areas of interest are political, economic and housing trends in global cities. Much of my time is spent writing about the world's prime property markets and the factors that affect it, covering fiscal, legal, political and financial issues linked to home ownership, and reporting on major shifts in British, European and international housing. Over the years, Carla has written about culture, education, interiors, farming, travel, food, wine and more.