Sherwood ending explained and will there be a season 2 of the hit BBC drama after that intense finale?
The Sherwood ending was every bit as heart-wrenching as we'd come to expect of the BBC drama as the spy was finally confronted...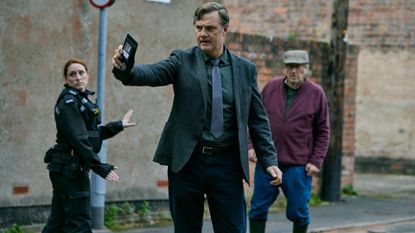 (Image credit: BBC)
The Sherwood ending has brought the intense BBC series to a seriously emotional conclusion, likely leaving many wondering if there'll be a season 2.
After weeks of agonizing waiting the Sherwood ending delivered all that we were hoping for and more. Not only was a killer brought to justice but the so-called "Spy Cop" that had been living secretly in the community for years was finally confronted by Detective Chief Superintendent Ian St Clair. The show is loosely inspired by a chilling true story of two manhunts in Nottinghamshire in 2004 as well as the impact of the Miners' Strike and Sherwood episode 5 left some serious plot threads for the final installment to tie up.
From where Sherwood was filmed to the resolution of the spy storyline, there are many finale moments that some people might now be hoping for more detail on. Here we unravel the shocking Sherwood ending and reveal whether this is the last we'll see of the hit BBC drama…
*Warning: major spoilers ahead!*
Sherwood ending explained
Just like Netflix's Pieces of Her ending and the Anatomy of a Scandal ending, the final episode of Sherwood finally brought all the long-buried secrets into the light. Throughout the episodes fans had been waiting to see who would be unmasked as a "Spy Cop" in the community, with the former police officer's identity finally being revealed (ironically) as crime family matriarch Daphne Sparrow in episode 5, building up to the Sherwood ending.
Ex-miner Gary Jackson had been determined to find out the truth about the spy, codenamed Keats, before his death. Whilst Ian St Clair, whose father Ron was arrested and his brother Martin burnt after a raid on the Met-controlled coach depot went wrong during the strikes was every bit as intent on uncovering the spy's true identity.
Attempting to take control of the police's supplies, the raid ended in disaster when a fire broke out. Ahead of the Sherwood ending, fans saw how Daphne betrayed the men involved to the police.
This included Gary, who wasn't even there at the time, believing the raid to be a foolhardy plan in the first place. Whilst Ian was forced by the police to confirm Ron's involvement, contributing to his estrangement from his family.
All these years later in Sherwood episode 6, Ian finally puts the pieces together as a series of clues seem to hint that something isn't right with Daphne's family history. His suspicions are then aroused even more when Daphne appears to confirm she is Keats with a simple autocorrect mistake on a text shown at the harvest festival.
Her horrified reaction is very telling indeed and she flees home where Ian follows, only to find her sitting with a gun.
Terrified that he's about to wrench her life away from her she declares she'd rather end her life now as Daphne than return to being "the person who caused all this".
"You can't make me go back to being *her*," she pleads with Ian, before dissolving into tears of helplessness and guilt.
"They made you do that job," he responds, showcasing remarkable levels of empathy. "They should never have put you in that position. We were kids, young coppers both of us, in the middle of that madness."
Ian then gives Daphne his word that nobody else needs to find out who she once was. This is not only a huge moment for her, but for the police officer, whose family was directly impacted by her actions all those years ago.
Following on from this massively emotional moment, the heartbreak doesn't stop there as the Jackson family mourn Gary at his grave intercut with real-life news footage of the devastated miners back in the 1980s.
Meanwhile, whilst viewers had already seen Andy Fisher killed in a stand-off after fleeing to the forest following his murder of his daughter-in-law Sarah Vincent in the show, Gary Jackson's killer was finally brought to justice in the Sherwood ending.
During his police interview after also evading detection in the nearby forest, Scott Rowley admitted to the murder. When asked why he kicked off his violent rampage he showed no signs of remorse, expressing jealousy for how everyone took notice of Gary and he was considered a nobody.
The mystery of the spy cop certainly became more dominant across Sherwood's six episodes, but the true story that inspired the fictionalized murders in the drama was never forgotten. In the seconds before the credits start to roll, the Sherwood ending unveiled a moving dedication to real-life ex-miner Keith Frogson, who was tragically killed back in 2004.
Writing a deeply insightful piece for The Guardian, the BBC drama's creator James Graham, who was brought up in north Nottinghamshire, expressed his desire to create a series that puts viewers in a position of attempting to see contrasting perspectives.
"Sherwood, I hope, avoids being a polemic or making any commentary on this continuing divide between those who went on strike, and those who went to work," James wrote. "To me, the power of drama that focuses on these areas of political controversy and pain is that it demands that we walk in the footsteps of others and try to understand and empathise with the actions of characters with whom we might disagree."
Will there be a Sherwood season 2?
For anyone hoping to see more powerful storytelling from James Graham, it's now been confirmed that there will be a Sherwood season 2. As revealed by the BBC, filming is set to take place in 2023, with further details and casting announcements to be made in due course. One brilliant thing we do already know about Sherwood season 2, however, is that the Nottinghamshire setting of the show is going absolutely nowhere!
James Graham will once again seek inspiration from the pit villages and their surrounding towns in his home county. The BBC revealed that the second series will retain the focus on exploring the lives and legacy of those living in "red wall" towns governed by the country's industrial past.
The controversial alleged deployment of so-called "spy cops" will also come back into play in season 2, as will the theme of past events continuing to haunt the present. The news seems to suggest that Sherwood season 2 will not be a direct follow-on from the first series but will continue the intense themes and focus that made it so successful. Although a surprise return of one of our favorite characters from season 1 is of course possible given the Nottinghamshire setting.
Writer James expressed in his piece in The Guardian just how important the location was in motivating him to create the hit BBC show. He also expressed criticism for the often "overly simplistic" depictions of the county and communities there.
"The notion of place was a driving motivation for making Sherwood," he declared. "We hear a lot about the "red wall" communities but, apart from the occasional vox pop on the news taking the temperature of residents, viewers rarely get to explore them properly."
The creator explained, "These overly simplistic snapshots often wrongly suggest that there is a homogenous uniformity to the people, their experiences and their views. My home county is as complicated, paradoxical and inconsistent as anywhere else."
Responding to counter this "homogenous" perception, James' Sherwood was multi-layered, intense and complex. And so it's perhaps no surprise that the creator is intending to keep the focus on north Nottinghamshire for Sherwood season 2.
And as Sherwood fans eagerly await the show's return for a second installment, there's plenty of time to re-watch all your favorite moments on BBC iPlayer.
Emma is a Senior Lifestyle Writer with six years of experience working in digital publishing. Her specialist areas including literature, the British Royal Family and knowing all there is to know about the latest TV shows on the BBC, ITV, Channel 4 and every streaming service out there. When she's not writing about the next unmissable show to add to your to-watch list or delving into royal protocol, you can find Emma cooking and watching yet more crime dramas.