Where is Sherwood filmed and is the gripping BBC show set in the same place as the true story that inspired it?
If you're wondering where is Sherwood filmed then you might not be alone as traumatic secrets rise to the surface in the intense series...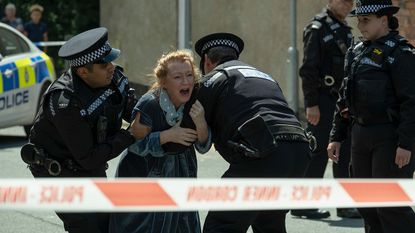 (Image credit: BBC)
Where is Sherwood filmed is the question likely on many fans' minds with the location playing such a central role in this BBC series.
Loosely inspired by a true story of two tragic murders in Nottinghamshire and the subsequent police manhunts to discover them, Sherwood delves into traumatic goings-on in a fractured community. Featuring brilliant performances from cast members that include Lesley Manville to David Morrisey, the BBC series fictionalizes real events. It tells the tale not only of two murder investigations but the growing suspicions surrounding the identity of a possible "Spy Cop" amongst the locals.
But where is Sherwood filmed and is the setting the same location where the manhunts happened? We reveal what you need to know as the intense BBC series continues…
*Warning: spoilers ahead*
Where is Sherwood filmed?
As with so many compelling dramas like The Essex Serpent and the Grace ITV show the setting of Sherwood is central to the emotional events unfolding across the hit BBC series' six episodes. So it's perhaps no surprise given that the show is loosely based on the true story of two murders in north Nottinghamshire that Sherwood was filmed in the county and set in the Ashfield district there.
According to Express.co.uk (opens in new tab), Sherwood's creator James Graham previously opened up to them and other press about how they ended up filming the BBC drama in more than one area. And he revealed it touched him to see the shots of the community in locations such as Annesley and Newton, especially as he grew up in the area.
"I was surprisingly moved to see... all those shots of the community that you see, that's when we filmed in Annesley and Newton and to see that on the BBC... to the BBC I am incredibly grateful for this opportunity," he explained.
James continued, "Coming up, you've got highlights that include Newton train station so get ready for that. Newstead Abbey, we did almost a whole episode in Newstead Abbey, and lots of places."
Newstead Abbey was once an Augustinian priory as well as the ancestral home of none other than Lord Byron. However, whilst Sherwood was primarily filmed in Nottinghamshire, it wasn't the only county that is understood to have been used as a location for the six-part BBC show.
James also reportedly disclosed that areas in Lancashire and Yorkshire were also used to film scenes for Sherwood. He is said to have listed Manchester, Bolton and Blackpool as more specific filming locations for the show.
Reflecting on the importance of Sherwood's Nottinghamshire setting, the creator expressed his pride at seeing his home county appearing on screen in the series.
"I've wanted to find a story to tell in my hometown for a very long time and I'm impossibly proud to grow up and come from where I do in north Nottinghamshire," he shared.
James declared, "It's a former mining village that doesn't always get a voice on the national stage and I sometimes feel like everyone's talking about us but not necessarily to us. It is a huge privilege and responsibility to try and give a voice to the kind of people I grew up with and the issues that still compound us every day."
Is the Sherwood setting the same location the 2004 manhunts took place?
Sherwood was largely filmed in Nottinghamshire and is set in Ashfield near where the two tragic murders that inspired the plotline of the show happened and the subsequent manhunts took place. The extensive police searches for Robert Boyer, who killed ex-miner Keith Frogson, and Terry Rodgers, who murdered his daughter Chanel, were reportedly focused around Annesley Woods.
The murders are understood to have been committed near the Nottinghamshire village of Annesley Woodhouse. Both Robert and Terry respectively headed to the forest to try and evade the investigating police officers, which they did for quite some time.
Meanwhile, in the Sherwood episodes shown so far, viewers have seen the character of Scott Rowley take to the woods where he's built himself a makeshift shelter as he also attempts to avoid the police. Despite the similar use of woodland in the series, however, James Graham fictionalized the real-life events for Sherwood, which is loosely based upon - and is not a direct adaptation of - the true story.
Although the general Sherwood setting remains the same as the location where the 2004 manhunts took place, he remarked upon how he wanted to give a "complete picture" of the area and not allow it to be defined by one experience. In doing so, he decided to fictionalize the original true story, as reported by Express.co.uk (opens in new tab).
"Consulting with those closest to events in my research it just felt right to fictionalize elements of their stories," he said. "Also, I think no community is defined by a single experience or a single story, and nor should it be."
James discussed the variety of "human experiences" he hoped to portray in Sherwood as he added, "There are the community's economic stories to do with the closing of the mines, there are police stories involving spy cops, and there are these devastating killings, both unrelated, but at first seemingly related. There are a whole number of human experiences that I wanted to combine to get a complete picture of a place."
"So, I think it was the moral thing to do in terms of protecting the people who I care about, and coming from that community, politically, I wanted to tell something that I felt represented it," he said.
Now you know the answer to the all-important question - where is Sherwood filmed? - there is plenty of time to re-watch all the episodes so far as suspicions grow in the Nottinghamshire community. After all, with a supposed "Spy Cop" in their midst, it seems someone is not quite as they first appear...
Emma is a Senior Lifestyle Writer with six years of experience working in digital publishing. Her specialist areas including literature, the British Royal Family and knowing all there is to know about the latest TV shows on the BBC, ITV, Channel 4 and every streaming service out there. When she's not writing about the next unmissable show to add to your to-watch list or delving into royal protocol, you can find Emma cooking and watching yet more crime dramas.