Zara Tindall carefully made sure she didn't upstage Princess Charlotte on her birthday
So thoughtful...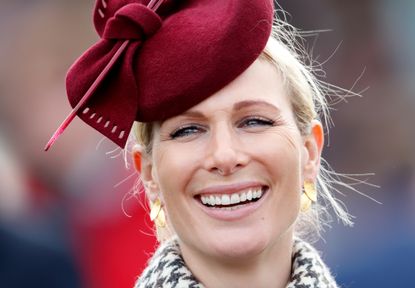 (Image credit: Photo by Max Mumby/Indigo/Getty Images)
Zara Tindall carefully made sure she didn't upstage Princess Charlotte on her sixth birthday when she stepped out with her newborn son Lucas last weekend.
---
Zara was spotted with her newborn son, Lucas Philip Tindall, at Cirencester Park International Horse Trials in Gloucestershire on Sunday—five weeks after she gave birth to him on the bathroom floor of her and husband Mike Tindall's Gatcombe Park home.
While the royal tot's first outing may have caused a stir if photographers had been able to catch a glimpse of his face, Zara kept him carefully hidden away in his pram, according to Gloucestershire Live.
Keeping little Lucas under wraps, new mom Zara made sure that the spotlight was stolen away from Princess Charlotte as she celebrated her sixth birthday.
Sunday marked six years since Kate Middleton and Prince William welcomed their first daughter into the world at the Lindo Wing of St Mary's Hospital in London.
The royal family marked Charlotte's birthday with a new photograph of her, taken by the Duchess of Cambridge.
Prince William later shared adorable details of his little girl's birthday celebrations as he headed out for an engagement at a Walsall engineering factory.
"She had a lovely day," he said.
"Last year it was her birthday in lockdown but this year we were able to have one other family over."
Meanwhile, Mike Tindall recently opened up about family life with Zara and their daughters Mia and Lena, now that Lucas has joined the family ranks.
Speaking on his podcast, The Good, The Bad & The Rugby, the sports pro revealed how he had been bonding with his new son over the weekend.
"A great Saturday, because Zara's horses were running so she went off to watch them, took the girls with her and I had the wee man, and literally you feed him, he goes to sleep, I went to the gym, he wakes up, I feed him," he said.
"I watched rugby whilst I was feeding him, he went back to sleep. It was the best day. Just the house on your own."
Joking that things were not so calm when Zara headed out with Lucas on her own for the day, Mike added, "Then we did a role reversal the next day and I had the girls, and it was carnage.
"Making, baking, taking Mia to rugby on Sunday. She's into it, she says she is not into it. 'I don't want to go, I never want to go,' and when she gets there, she always has fun so…it was a good family weekend."