What is the Nizam of Hyderabad? Necklace favoured by Kate Middleton is most expensive royal jewel in the world
It's thought to be the most expensive jewel in the Queen's collection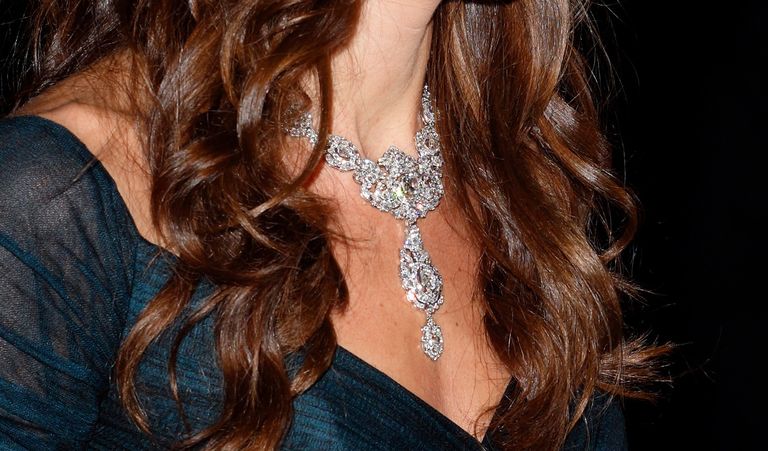 (Image credit: Max Mumby/Indigo/Getty Images)
The Nizam of Hyderabad necklace has been worn by Kate Middleton on multiple occasions and is the most expensive jewel in the Queen's vast collection. Some experts estimate the value of the necklace at over $82.5M (£60M), making it the most expensive jewel across any royal family around the world.
Expert jewellers jewellerybox estimate the value of the Nizam of Hyderabad at £66.3 million.
The jewel has been worn by the Duchess of Cambridge on many occasions.
In other royal news, Kate Middleton and Prince William have recently become 'couple goals' following plenty of PDA
Kate Middleton's dresses have been complemented by the magnificent jewel on multiple occasions. As if her style isn't proof enough, it's clear that the Duchess has impeccable taste considering it's said to be the most valuable royal jewel in the world.
In February 2014, the necklace was worn for the first time by the Duchess of Cambridge for an event at the National Portrait Gallery, pairing it with a navy-blue Jenny Packham gown.
What is the Nizam of Hyderabad?
The necklace was a wedding gift to Queen Elizabeth II, who at the time was then Princess Elizabeth, from the Nizam of Hyderabad in 1947.
Asaf Jah VII was the ruler (or Nizam) of Hyderabad, which is located in the south-central part of the sub-continent of India (which was then under British colonial rule).
Considered one of the richest men in the world, the Nizam bestowed an incredible gift upon the bride-to-be: he instructed Cartier to let her choose anything she wanted.
With something of a blank cheque, the then-Princess Elizabeth chose two pieces: a floral tiara, which included removable elements that could be worn as brooches, and a coordinating floral necklace.
Both pieces were made of diamonds set in platinum. The necklace, which was made by Cartier in 1935 is an intricate masterpiece featuring more geometric diamonds nestled in the abstract floral design.
Director of the Royal Collection and Surveyor of The Queen's Works of Art from 1996 to 2010, Hugh Roberts, has previously described the necklace in greater detail.
He described the piece as including a, "pavé-set center with detachable double-drop pendant incorporating 13 emerald-cut diamonds and a pear-shaped drop; the chain of 38 brilliant-cut open-back collets with an elongated oval brilliant-set snap."
The piece is undeniably, of all the jewels in the royal collection, one of the most precious owned by the royal family.