This is what Meghan Markle was doing instead of celebrating the coronation
Prince Harry attended the coronation without Meghan...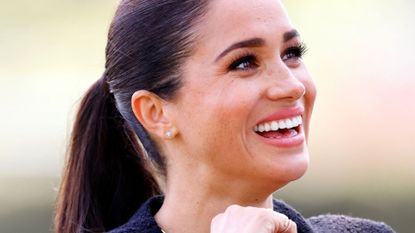 (Image credit: Getty Images)
Meghan Markle wasn't at the coronation with Prince Harry, but what was she doing instead? Here's what we know...
On May 6, 2023, King Charles III was officially coronated, marking a significant change in the British monarchy - the first coronation in over 70 years. And one of the biggest topics of conversation was whether Prince Harry and Meghan Markle, two non-working royals, would be taking part in King Charles' coronation.
This topic was especially tense after the release of Harry's tell-all memoir Spare, and their joint Netflix documentary Harry & Meghan, which both provided intimate and often negative details of their experience while active members of the royal family.
Meghan famously did not attend the coronation on Saturday, and neither did her kids - however, Harry did attend and notably had a few 'moments of sadness' throughout, according to a body language expert.
People are wondering though: What was Meghan doing during the coronation? Fans had been wondering for weeks whether Meghan and Harry would attend together, or even perhaps, in an extreme case, send no one from the Sussex clan to celebrate the coronation of his father.
While Harry did attend, according to recent pictures in People, Meghan was on a hike in Montecito, California with friends Markus Anderson and Heather Dorak.
For the hiking outing, she wore a pair of blank leggings with a black tank top, as well as a pair of hiking boots, some colorful, thick socks, and a large hat, likely to keep the California sun out of her face.
May 6 was also Archie's 4th birthday. Right after the official coronation ceremony, Harry was seen getting into a car that was to take him back to the airport so that he could catch a flight back to California for Archie's birthday.
"It's going to be a low-key party at home," a source previously told People magazine of Archie's birthday celebration. "They'll have friends around them and Meghan's mom, Doria [Ragland]. Meghan will definitely have support that weekend."
At the coronation itself, Harry and King Charles appeared to have no interactions, as Harry sat three rows behind the other working royals. He sat with fellow non-working royals Princess Beatrice and Princess Eugenie. Following the coronation service, Charles and Prince William took part in the formal procession back to Buckingham Palace, while Harry left the event and got in the car to head back to California.
Madeline Merinuk is woman&home's US lifestyle news writer. She covers celebrity, entertainment, fashion, and beauty news but is also obsessed with internet trends - you can find her reciting trending TikTok sounds out loud at any given time.
After winning multiple student journalism awards for her investigative work, she graduated from Hofstra University in 2021 with a B.A. in Journalism. After graduating, she worked at today.com, the digital site for the Today Show, where she wrote pop culture news and interviewed big-name personalities like Emily Ratajkowski, Haley Lu Richardson, Emma Corrin, and more.
Her personal interests, in no particular order, are: cheese, Joni Mitchell, reading, hot yoga, traveling, having multiple chapsticks in every handbag at all times, and dancing to ABBA songs as if she were in the Mamma Mia movies.