The Queen 'burst out laughing' when she opened this Christmas gift from Meghan Markle
Meghan spent Christmas 2017 with the royals for the first time.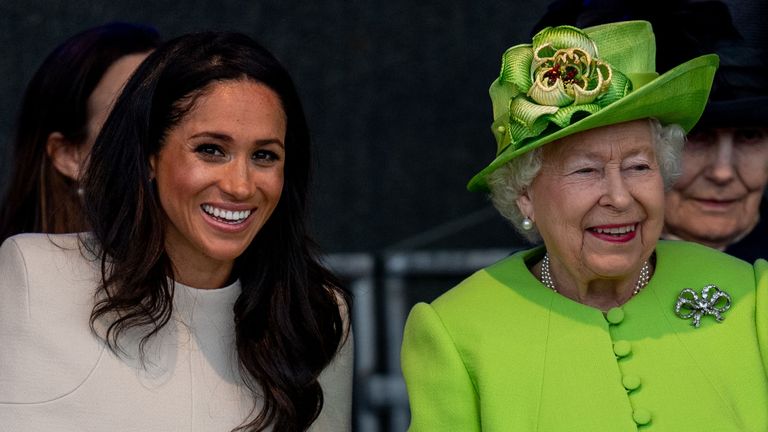 (Image credit: Getty Images)
By Amy Hunt
A Christmas gift given to the Queen by the Duchess of Sussex back in 2017 is said to have left the monarch in fits of giggles.
Back in 2017, Duchess Meghan was invited to spend Christmas with the royal family just one month after she and Prince Harry announced their engagement.
Meghan joined the family for the very first time at Sandringham that year over the festive period, famously joining them for their annual walk to the St. Mary Magdalene Church on Christmas morning.
And it seems she also joined in with the royal's tradition of giving one another impractical joke gifts on Christmas Eve - the perfect idea, we reckon, for the family who has everything!
In the spirit of things, Meghan reportedly gifted the Queen with a singing hamster toy, which apparently made the monarch 'burst out laughing', The Star claims.
Reportedly, she commented, "It can keep my dog's company."
At the time, a royal source also added, "Meghan brought a little hamster that sings with a little rope for Her Majesty.
"It was so funny, especially when the corgis tried to take hold of the toy."
But Meghan and the Queen aren't the only ones who have apparently enjoyed a hilarious exchange when gift-giving in recent years. Before Harry met his future wife, the Duchess of Cambridge is said to have given him a 'Grow-a-girlfriend' kit as his joke Christmas Eve gift!
Of course, Christmas this year - as for everyone - will be a little bit different for the royal family.
The Queen and Prince Philip confirmed earlier this month that they will be spending the festive period 'quietly' at Windsor Castle - breaking with their 32-year tradition of spending the holiday at Sandringham.
It's thought then that the rest of the family will spend today with their respective immediate families - while Prince Harry and Meghan Markle will be ringing in Christmas and the New Year in their new LA home for the first time.