The jewelry mishap which made Princess Diana an accidental trendsetter
The late Princess of Wales was, is and always will remain a style icon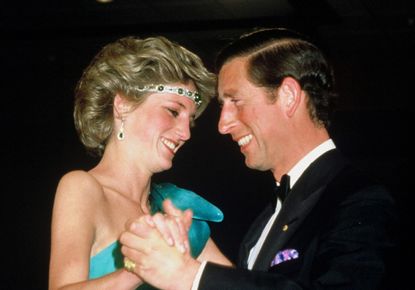 (Image credit: Anwar Hussein/Getty Images)
Princess Diana was – and remains – a true style icon. From her oversized jumpers and bike shorts to the iconic Revenge Dress, she has had plenty of looks that people remember. However, one of her trailblazing jewelry looks was a happy accident, as a choker became a headband.
Princess Diana became an accidental style icon when she got the Delhi Durbar Emerald Choker stuck around her head
The luxurious piece was a gift from the Queen for her wedding to Prince Charles, and Diana decided to wear the necklace as a headband, creating a whole new look
---
It's nearly 25 years to the day that the world lost Diana, Princess of Wales, but her legacy lives on. From her philanthropy to her status as a style symbol, Diana remains as relevant as ever.
But it turns out, some of Diana's style moments were purely accidental. In a book, they explore how one of her iconic jewelry moments was the result of a mishap.
Diana's Delhi Durbar Emerald Choker, an art deco diamond and emerald choker, was a wedding gift from the Queen.
A truly enviable piece, it was first gifted to Queen Mary by the Delhi Durbar during her visit with King George to India on December 12, 1911.
Meant to be worn as a choker, Diana shocked everyone when she wore it as a headband – cementing a whole new look and creating a style moment out of pure serendipity.
Despite the headband looking fabulous, royal biographer Kitty Kelley claimed in her book The Royals that the fashion statement was purely accidental.
While in a rush, Diana tried to put the choker over her head, rather than wait for someone to help her clasp it. When it got stuck and wouldn't go over her nose, Canadian diplomat Victor Chapman convinced her to wear it as a headpiece.
Steven Stone's leading diamond expert, Maxwell Stone commented, "When it came to wearing jewelry, Princess Diana knew exactly how to make each piece stand out. From remodelling brooches into necklaces, to wearing chokers as headbands, she set some huge trends and was always showcasing her jewels in unique ways."
"Whether it was an accident or not, wearing the Delhi Durbar Emerald Choker as a headpiece was a wonderful choice by the Princess and certainly supported her trendsetter reputation."
"The diamonds in this piece alone are magnificent, looking to be around 10 carats each. They are old cut stones, which makes them even more valuable. While it's so difficult to put a value on a piece like this that has such a rich history, it could be worth from $11.7M to $17.6M."
While she might have loved bucking conventions, Diana did also wear the necklace as intended. She last wore it just a month before her death, during a low-key gala celebration to mark her 36th birthday at London's Tate Gallery on July 1, 1997.
Jack Slater is not the Last Action Hero, but that's what comes up first when you Google him. Preferring a much more sedentary life, Jack gets his thrills by covering news, entertainment, celebrity, film and culture for woman&home, and other digital publications.
Having written for various print and online publications—ranging from national syndicates to niche magazines—Jack has written about nearly everything there is to write about, covering LGBTQ+ news, celebrity features, TV and film scoops, reviewing the latest theatre shows lighting up London's West End and the most pressing of SEO based stories.