Prince Harry would have to make a heartbreaking sacrifice if he wanted to 'get back to normal' with the royals
Prince Harry would have to make a drastic move to fully rebuild his family bonds, a royal expert predicts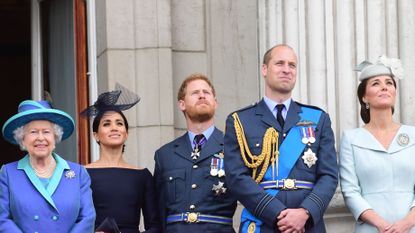 (Image credit: Photo by Paul Grover - WPA Pool/Getty Images)
A royal expert has predicted that Prince Harry would have to make a huge sacrifice if he ever wanted to fully rebuild bridges with his family.
A royal expert has predicted that Prince Harry would have to make a huge sacrifice and return to the UK without Meghan Markle, if he wanted to repair his strained relationship with his family.
The Duke of Sussex shared details of the "genetic pain and suffering" he feels was passed down to him from his father, Prince Charles, earlier this year.
---
The rift between Prince Harry and his royal family members is believed to be ever-growing while he continues to share huge truth bombs about his life, growing up in the monarchy.
It's thought that tensions between Prince Harry and his brother Prince William began to form when he warned the Duke of Sussex against rushing into marriage with Meghan Markle.
Then in 2020, Prince Harry and Meghan stepped back from their key roles within the royal fold, ditching Frogmore Cottage and starting a new life in LA with their son Archie.
The pair have since welcomed their daughter Lilibet, who was number 11 of the Queen's 12 great-grandchildren—however it's believed that baby Lili is yet to meet the royal side of her family in person.
Months after his explosive claims during his and Meghan's Oprah Winfrey interview, Harry shared more extraordinary insights into the struggles he faced as a young prince in his new mental health series, The Me You Can't See.
A royal pro has now suggested that Prince Harry would have to leave Meghan and move back to the UK, if he ever wanted to fully repair the broken bonds between him and his royal relatives.
Speaking to the Mirror, US journalist Kinsey Schofield said, "Sadly, I think the only way that things would go back to normal is if Prince Harry and Meghan Markle were to separate and Prince Harry returned to the UK solo."
Adding that it's a prospect that seems unlikely due to the fact Harry is raising Archie and his future daughter across the pond from Buckingham Palace, she suggested, "However, Harry would never leave his children in another country."
The LA royal correspondent also insisted that Prince William's wife, Kate Middleton, is keen to see the brothers and their father put the fall-out behind them.
"I believe the Duchess of Cambridge is a very strong champion for the reunion, but I also imagine that she knows where her husband's head and heart are and isn't going to push for something that he's not ready for."
Harry even called out Prince Charles for putting him through a cycle of "genetic pain and suffering" that he claims is present within The Firm, during an incredibly powerful chat about his exit from the royal family, on The Armchair Expert podcast.
"There is no blame. I don't think we should be pointing the finger or blaming anybody, but certainly when it comes to parenting, if I've experienced some form of pain or suffering because of the pain or suffering that perhaps my father or my parents had suffered, I'm going to make sure I break that cycle so that I don't pass it on, basically," he said.
"It's a lot of genetic pain and suffering that gets passed on anyway so we as parents should be doing the most we can to try and say 'you know what, that happened to me, I'm going to make sure that doesn't happen to you'.
"It's hard to do but for me it comes down to awareness. I never saw it, I never knew about it, and then suddenly I started to piece it together and go 'OK, so this is where he went to school, this is what happened, I know this about his life, I also know that is connected to his parents so that means he's treated me the way he was treated, so how can I change that for my own kids?'"
However, Prince Harry did speak publicly alongside the royal family for the first time since leaving the UK when he participated in a special BBC documentary, made to remember Prince Philip's life.
Highlighting the fact that Harry still feels a connect to his roots despite everything, he appeared in the touching tribute to chat about his late grandfather, joining the likes of Prince Charles, Prince William, Princess Eugenie, Zara Tindall and Princess Beatrice to be involved in the family project.
Recalling his happy memories of Prince Philip and sharing his pride in what his grandpa achieved, Prince Harry said to the camera, "What you see is what you got with my grandfather. That's what I love more than anything else, was the authentic-ness of him.
"He was unapologetically him at all times, no matter where he was, no matter who he was speaking to, no matter what he was doing."