The Duchess of Cornwall recycles a gorgeous purple plaid outfit in a visit to Wiltshire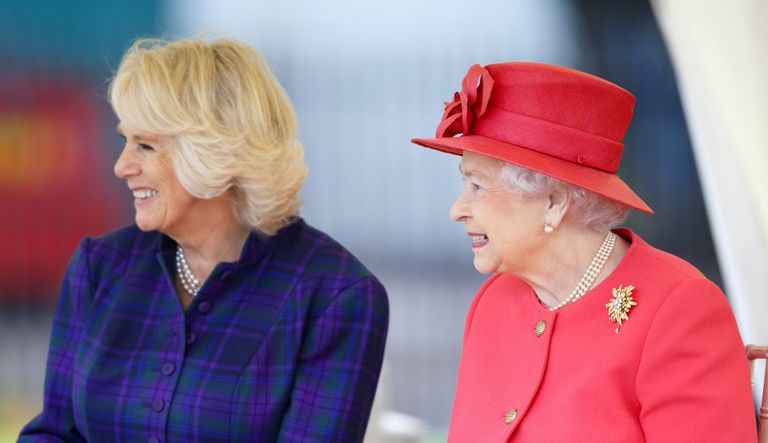 (Image credit: Getty Images)
The Duchess does it again with this stunning outfit.
Camilla Parker Bowles revisited an old outfit for a visit to Wiltshire.
She wore the matching ensemble back in 2013 and proves it is still fashionable today.
The Duchess of Cornwall visited the Wiltshire Council on Monday, to thank the staff for their work during the height of the pandemic.
According to Clarence House, Wiltshire Council "coordinated over 420 community and voluntary groups across Wiltshire, producing supporting toolkits which were nationally recognised as examples of best practice." The 'Wellbeing Hub' also made direct contact with "over 24,000 of Wiltshire's most vulnerable residents during the pandemic. The Hub has also worked with 450 voluntary groups to distribute more than 1,400 food parcels." Camilla met the staff who were involved in the efforts.
In her visit to Trowbridge, she wore a floral face mask and a plaid tailored jacket with a matching skirt. Camilla wore the ensemble back in 2013 during a visit to a riding centre with The Queen. It seems on both occasions she has paired it with the same pair of knee-high suede boots. Very smart and fashionable!
The Duchess often resides in Wiltshire, in their home Ray Mill House, so she would've enjoyed her visit to this part of the country.
"It was a huge honour to welcome The Duchess of Cornwall to Wiltshire Council," said Terence Herbert, the Wiltshire Council Chief Executive in a statement on the Council's website. "I am incredibly proud of the work undertaken by our staff during the pandemic. Many staff were working seven days a week during the pandemic and many services are still operating a seven-day rota now as we continue to see cases increase again across the country. I am extremely grateful to my staff for all the hard work and commitment they have shown and continue to show during the current crisis. It was wonderful to see this recognised in such a way today."
Rachel is a freelance contributor to woman&home, covering news as well as books, lifestyle and travel. Her byline has also appeared in The Independent, The Financial Times, ELLE Magazine, VICE, Glamour Magazine and others. She loves nothing more than talking with people to share their stories. When she is not writing you will definitely find her nose in a book or magazine, or perhaps training for the next half marathon, practicing yoga or eating in London's best restaurants.