The Duchess of Cambridge stuns in silk Michael Kors blouse
Another style hit from The Duchess of Cambridge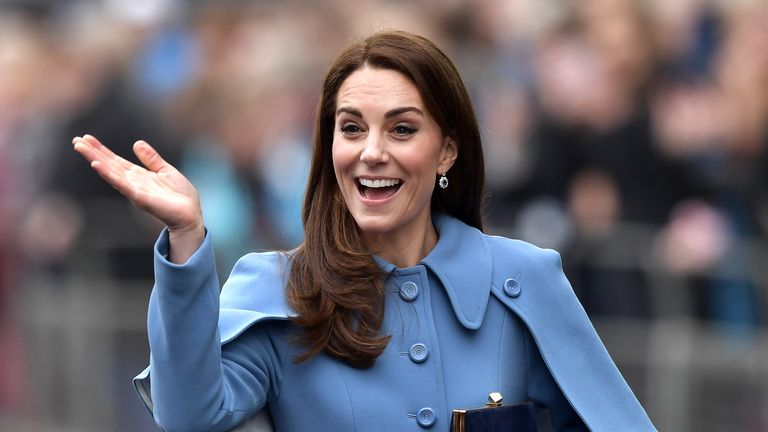 (Image credit: Getty Images)
By Sarah Finley
The Duchess of Cambridge wowed fashion fans again by dressing up in a gorgeous Michael Kors blouse for a Zoom call with William and beneficiaries of charity Future Men. The designer blouse is now sold out after she wore it at the virtual meeting but we've found some great alternatives.
• Kate joined Prince William on the Zoom call in the sell-out £175 white silky Michael Kors 'Medallion' blouse with puffed sleeves and a pale green print
• The Duchess spoke to fathers Graeme Mackenzie, Peter Sen, Darren Smith and Sarit Chaturvedi
• In other royal news Kate and William also revealed that their beloved dog Lupo had passed away
Another day, another amazing outfit choice from Kate. Her latest lust-worthy wardrobe addition is a silk-blend jacquard blouse, woven with decorative pendants from Michael Kors but unfortunately it's already sold out, boo! Luckily we've tracked down the following options so you can still shop a similar look for yourself.
Teaming the blouse with black trousers and wavy locks Kate looked happy to be talking to five fathers who are all part of the Future Men's Fathers Programme. While Prince William looked suitably smart, wearing a maroon jumper and white shirt underneath.
The charity helps fathers develop their confidence as parents at every stage of their child's development. The video showed a snippet of their conversations with Kate asking: "What do you find the most challenging, or perhaps frustrating thing about fatherhood?"
The Instagram video, which was posted yesterday, has had around 1.5 million views. The video also shows Prince William and his wife Kate asking how the fathers were managing with new babies, with one commenting: "We need to be easier on ourselves as men and dads…we don't have to be superheroes."
The post also explained further about what the charity does: "Future Men supports around 500 fathers – and their partners – each year.
While it went on to say: "During lockdown they have kept in touch via virtual one to one drop-in sessions, sharing tips on how to deal with pressure, speak openly about their feelings, and continue to provide the best care for their children during challenging times."
It's not the first time one of the Duchess's virtual outfits has sold out - when Kate wore a £75 baby blue scalloped cardigan from Boden for the Hold Still digital exhibition last week, it sold out within days.
The video was also posted the same day that the royal couple announced their beloved dog Lupo had passed away. They said on Instagram: "He has been at the heart of our family for the past nine years and we will miss him so much."