The details behind King Charles and Queen Camilla's new special card, including Camilla's $12M in jewels
The King and Queen Consort have updated their portrait for a card they send out for special occasions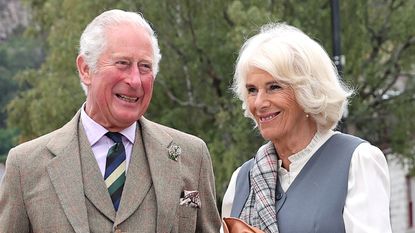 (Image credit: Chris Jackson/Getty Images)
It's been reported that King Charles and Queen Consort Camilla have updated the portrait which fronts a special card they send out to celebrate people in Great Britain turning 100 years old. This tradition from the monarch dates back to 1917 and Charles and Camilla resumed it following the end of the mourning period for Queen Elizabeth II. However, the late Queen still very much comes to mind with the cards, as Camilla pays tribute to her late mother-in-law with carefully chosen jewelry.
King Charles and Queen Consort Camilla have updated the cards they send out for special occasions in the United Kingdom
The new photo of the pair is taken from their first state banquet as King and Queen Consort, and Camilla is paying tribute to the late Queen Elizabeth with her choice of sentimental jewels
---
When Queen Elizabeth II passed away last summer, her loss was felt around the world. But while periods of mourning and other state funeral plans were well known for some time, what might not have been as commonly known was a tradition dating back to 1917 stopped as a result.
For a while after her death, Buckingham Palace stopped sending personal cards to people who hit their milestone 100th birthday, or married couples celebrating their 60th wedding anniversary.
King George V established the tradition of sending a telegram for people's 100th birthdays in 1917. Recipients receive the special notices - now cards - on their 100th and 105th birthdays and every year after that.
After being paused, when the official mourning period came to an end, new cards needed designing and printing, so it wasn't until October 2022 that the tradition continued.
King Charles and Camilla's first card featured a photo of the couple taken in 2018, but the cards have now been updated for a much more regal and authoritative pose.
The photo is now one from Charles' first state banquet as monarch, where they welcomed President Cyril Ramaphosa of the Republic of South Africa.
While their first official state banquet as King and Queen Consort understandably carries a lot of significance, it's the outfit worn by Camilla which is loaded with symbolism. In the new photo, Camilla pays tribute to Queen Elizabeth II by wearing her Belgian Sapphire Tiara – the tiara was refashioned from a 19th century necklace once owned by Princess Louise of Saxe-Coburg and Gotha and perfectly complements the King George VI Victorian Suite, which Camilla is also wearing in the photo.
Gifted to Queen Elizabeth by her father on her wedding day in 1947, the King George VI Victorian Suite was among her most sentimental and heartfelt jewels.
The sapphire and diamond cluster line necklace originally featured 18 sapphires, sat on a gradient, ranging from 8 to 30 carats. Queen Elizabeth redesigned this in 1952, removing four of the sapphire clusters from the back and re-modelled and reset one of the larger stones from the front, to create a pendant for the necklace.
Diamond experts at Steven Stone (opens in new tab) estimate the value of the Belgian tiara to be around $6M, and further explored the King George Victoria Suite's estimated worth.
They explained, "The Queen Consort paid tribute to the late monarch by pairing the tiara with Queen Elizabeth II's King George VI Victoria Suite. Featuring some of the late monarch's most meaningful jewels that were gifted to her by her father, the suite consists of a sapphire and diamond cluster line necklace, a pair of sapphire earrings, and a bracelet."
"The King George VI Victorian Suite is likely to be worth $6M, meaning that in the photo on the front of King Charles and Camilla's card, she's wearing a staggering $12M worth of Queen Elizabeth II's jewels."
Jack Slater is not the Last Action Hero, but that's what comes up first when you Google him. Preferring a much more sedentary life, Jack gets his thrills by covering news, entertainment, celebrity, film and culture for woman&home, and other digital publications.
Having written for various print and online publications—ranging from national syndicates to niche magazines—Jack has written about nearly everything there is to write about, covering LGBTQ+ news, celebrity features, TV and film scoops, reviewing the latest theatre shows lighting up London's West End and the most pressing of SEO based stories.