Why the Queen and the Duchess of Cambridge wore multiple poppies on Remembrance Sunday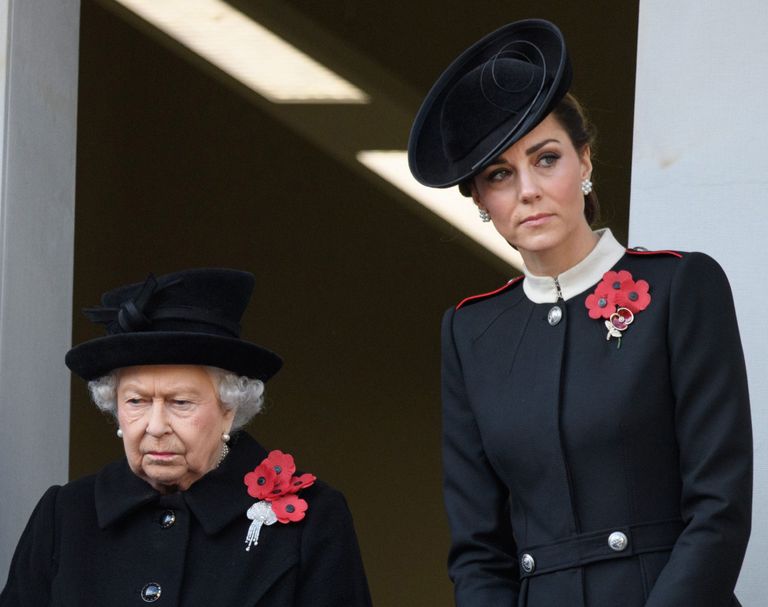 By Amy Hunt
Over Remembrance Day weekend, almost the entire royal family gathered to pay tribute to the fallen, 100 years on from the end of World War One.
At the first engagement on Sunday, the family - including Prince Charles, Prince Harry, Prince William, the Queen, Camilla and the Duchess of Sussex and Duchess of Cambridge - gathered at the Cenotaph in Whitehall, for the National Service of Rembrance.
But eagle-eyed fans noticed that the female royals had styled their poppies, pinned onto their outfits, in a rather different way than everyone else.
The Queen and the Duchess of Cambridge weren't wearing just one poppy - but multiple poppies, arranged in a circle. Catherine was wearing four poppies, including her metal one to represent women's service in the world wars, while Queen Elizabeth II opted for five, alongside a silver brooch.
Camilla, the Duchess of Cornwall, was also seen wearing multiple poppies - and, like the Duchess of Cambridge, it appears that she had three attached to her coat.
Meghan, Duchess of Sussex, on the other hand, was wearing just one poppy, much like the rest of the people gathered at the sombre service on Armistice Day.
The reason why the three royal women were wearing more than one poppy hasn't yet been confirmed by the palace - but there are a few theories being suggested by royal watchers.
Some have pointed out that each poppy on the Queen's coat could be a symbol of recognition for each service performed during the wars - the RAF, women's services, Civil Defence, the Navy, and the Army. It's thought that Catherine's four poppies could represent a similar sentiment.
But another theory is simply that multiple poppies are more visible than just one. Whatever the real significance, it's clear that Catherine and the Queen are keen to pay tribute to those who gave their lives in the war, and make sure their sacrfice is never forgotten.
It's thought that the Queen's poppies is actually a bespoke corsage design, created especially for her. However, it's not clear if the Duchess of Cambridge's, or Camilla's have been made just for them.
Later on in the day, the entire family, including Harry, Meghan, William and Catherine, reconvened at Westminster Abbey, for a service to mark the centenary of the Armistice.
But as at the service earlier on in the day, one major royal was noticeably absent however. For the first time in decades, Prince Philip opted not to attend the Remembrance Day events, given his advancing age and the fact that he officially retired from public life last year.