Queen Camilla given burger crown as 'last minute gift' in 'awkward' moment during royal outing
Queen Camilla was given a crown during a recent royal outing - but not the type she's used to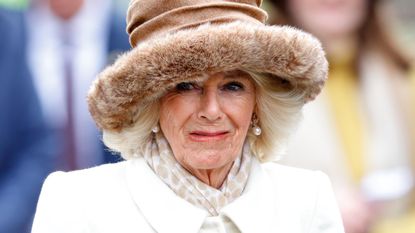 (Image credit: Getty Images)
Queen Camilla was given a new crown from a burger joint during her and King Charles's latest royal visit, with a body language expert claiming she struggled with the 'awkward' moment.
King Charles III and Queen Consort Camilla arrived in Colchester to meet with members of the public and celebrate the area's new city status on Tuesday.
During the visit, Camilla was handed a paper crown from fast food chain Burger King, pulling a rather confused expression as she examined the gift from a young local.
---
During a walkabout in Colchester, Charles and Camilla met with royal fans young and old as they gathered in the hopes of meeting the King and Queen, who were visiting to mark the town becoming a city.
As the new monarch and his Queen Consort, who will be crowned during King Charles's coronation in May, made their way down the high street, they were met with gifts, smiles and chatter from those in the crowd.
Queen Camilla, who wrapped up in a regal bright white coat, was even handed a paper crown from fast food joint, Burger King, in a moment that a body language expert has hailed as 'awkward'.
Somebody in Colchester gave Camilla? the Queen Consort, a Burger King crown. One to wear for the coronation? pic.twitter.com/uwTs4qt7T3March 7, 2023
See more
As Camilla approached a group of young fans gathering, she was told she had a "last minute gift".
In the video shared by @_tomsteel on TikTok, Camilla can be seen taking the cardboard crown, looking down to inspect it and simply saying, "Burger King? Thank you very much," before walking on to meet more well-wishers.
Body language expert Judi James has analyzed the exchange, claiming that the new Queen Consort appears to struggle with handling slightly awkward or unexpected moments with the public.
"Queen Camilla's signals of ongoing awkwardness are visible in this 'moment' when a fan gifts her a paper crown from a burger bar," Judi told the Express.
Adding that Camilla seems to mimic her husband's relaxed nature that he exudes when laughing and joking with the public, Judi also highlighted, "She does use the kind of 'point' gesture that Charles uses to imply a sense of fun and connection."
Judi added, "Camilla clearly looks rather thrown by the sight of the paper crown and unable to join in the laughter about it or add to the fun."
Admitting that a fast food crown is an unusual gift for Camilla, the behavior pro also pointed out that she struggled to handle the slightly strange interaction in a relaxed way, saying, "But she lacks the kind of easy social confidence that will help her cope with what she seems to see as odd behavior."