Princess Beatrice set to become 'acting monarch' as the coronavirus outbreak demands her to step up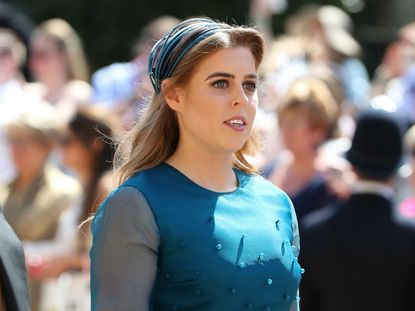 Princess Beatrice could be forced to step in as a Counsellor of State, as many of the five that are usually on hand to fill-in for Her Majesty aren't able to.
The current five Counsellors of State include the Duke of Edinburgh, the Prince of Wales, the Duke of Cambridge, the Duke of Sussex and the Duke of York - and two must be present at any time.
But with Prince Andrew and Prince Harry not acting as working royals and Prince Philip and Prince Charles being over 70, it's likely Beatrice will have to step in.
This follows royal news that Princess Beatrice had to cancel her May wedding amid the coronavirus outbreak.
COVID-19 may force the Regency Act 1937 to create a sixth Counsellor, according to Royal Central.
Prince Philip, 98, and Prince Charles, 71, are likely going to have to go into quarantine in line with government advice to protect the elderly.
Prince William is likely to be the only Counsellor who is a working royal and is likely to remain out of self isolation.
Those who are chosen as Counsellors must be be 21 or over - even though the heir to the throne becomes qualified when they reach 18.
Will Princess Beatrice step up?
It's thought that the sixth role will go to Princess Beatrice of York, who is currently ninth in line to the throne.
If the Queen and her Counsellors are unable to carry out their duties, the Government could collapse, as someone has to be able to carry out the duties of the sovereign.
Beatrice is due to marry Eduardo Mapelli Mozzi on 29 May at St. James's palace, followed by a reception at Buckingham Palace.
But the couple have been forced to review their plans.
A statement from the Palace read: 'Beatrice & Mr Mapelli Mozzi are very much looking forward to getting married but are equally aware of the need to avoid undertaking any unnecessary risks in the current circumstances.
'In line with government advice for the UK & beyond, the couple are reviewing their arrangements.
'They are particularly conscious of government advice in relation to both the wellbeing of older family members and large gatherings of people.'
'Therefore, the planned reception in the Buckingham Palace Gardens will not take place.'
Robyn is a celebrity and entertainment journalist and editor with over eight years experience in the industry. As well as contributing regular to woman&home, she also often writes for Woman, Woman's Own, Woman's Weekly and The Sun.