Princess Anne strays from royal etiquette rule in rare moment filmed inside her home
Princess Anne looked casual and relaxed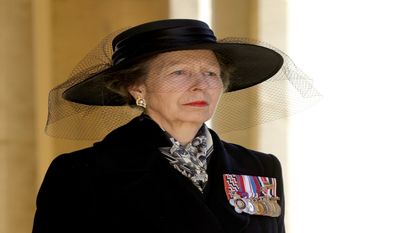 (Image credit: Getty Images)
Princess Anne strayed from a classic royal etiquette rule when she appeared on camera at her Gatcombe Park home for a rare interview, in honor of Prince Philip's 100th birthday.
Princess Anne opened up about her late father on what would've been his 100th birthday last week.
Royal fans couldn't help but notice that the Queen's only daughter ditched the unwritten rule against leg crossing, opting for a relaxed position as she sat down for the touching chat.
---
If you've ever wondered why Princess Anne is fifteenth in line to the throne, you'd be forgiven for thinking it's because she's just a bit too unconventional for the Royal Family.
Speaking to ITV's Chris Ship in her first interview since the Duke of Edinburgh passed away in April of this year, the Princess Royal appeared casual as she sported a coordinating wool skirt and blazer and a pair of knee-high suede, black boots.
Royal fans took to social media to point out that the second eldest of Queen Elizabeth's children had decided not to sit in a famously regal way, with legs together and slanted to the side, choosing instead to cross one over the other.
The elegant pose is usually donned by royal women when they sit down in skirts in public.
The Duke of Edinburgh's only daughter, Anne has not spoken about her father since he died in AprilShe told @itvnews "There was much more to Prince Philip than most people knew. Not many people understood just how supportive he was to an astonishingly wide range of organisations" pic.twitter.com/NRCELa7r7CJune 10, 2021
See more
Gloucestershire Live reports that one Anne fan took to Twitter to praise her for "sitting like a normal woman with her legs crossed".
We often see the Duchess of Cambridge poised with slanted legs and her hands in her lap at royal appearances, while Meghan Markle usually did the same when she was a member of The Firm.
Etiquette expert, Myka Meier, who dubbed the position 'The Duchess Slant', explains why it's ideal for female members of the monarchy, who often wear skirts around for very public occasions with cameras at every angle.
"'It is the perfect sitting pose for when a camera is shooting directly in front of you because, by slightly slanting the knees to create a zig-zag effect when wearing a dress or skirt, your legs are angled so that the camera only shoots the sides of your legs and protects your modesty," she told the Daily Mail.
Meanwhile, Her Majesty the Queen has her own go-to tactic for perching in public, almost always keeping her legs straight down with her ankles together, ensuring she looks put together while also remaining comfortable.
"This is a simple and elegant way to sit with knees and ankles together, with heels touching the floor," Myka says.