Prince William pays moving tribute to great-grandmother Princess Alice at royal event as Duchess of Cambridge holds back tears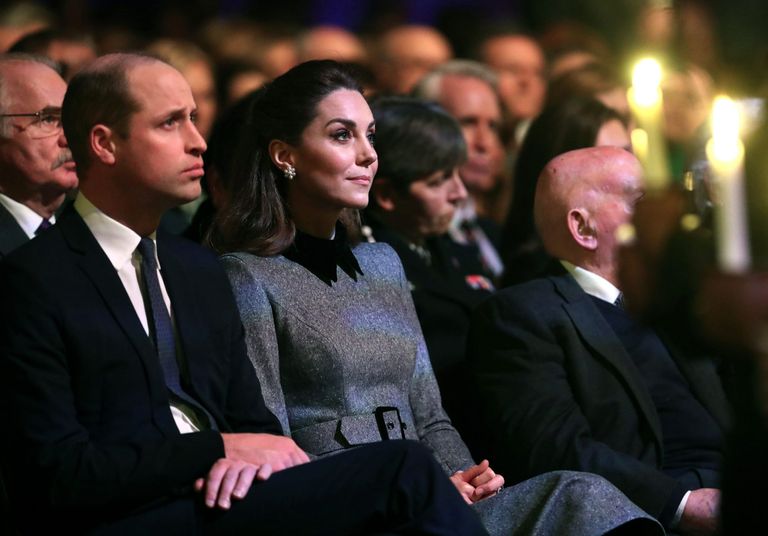 The Duke and Duchess of Cambridge attended a UK Holocaust Memorial Day commemorative ceremony yesterday to mark its 75th anniversary.
At the event, Prince William got up on stage to pay tribute to his late great-grandmother, Princess Alice.
The Duchess of Cambridge was visibly moved during the ceremony, as Holocaust survivors shared their experiences.
The royal couple stepped out on Monday evening for a Holocaust Memorial Day ceremony, on a day that also marked 75 years since the former Nazi death camp of Auschwitz was liberated.
During the ceremony, Prince William made a speech where he paid tribute to his late great-grandmother Princess Alice, and revealed how she helped save a family in Athens, during the Nazi occupation of Greece.
He said, "When the persecution of the Jews by the Germans began, Princess Alice asked to be informed about the fate of the Cohen family.
READ MORE: Prince William has been given a new royal title by the Queen following Harry and Meghan's split from the royal family
"Having been informed by friends and by her lady in waiting about the plight of Mrs Cohen and her young daughter, the Princess decided to offer her hospitality to the two ladies; in fact, to hide them in her home despite the danger this entailed.
"The Princess put a small two-room apartment on the third floor at the disposal of Mrs. Cohen and her daughter.
"It was thanks to the courageous rescue of Princess Alice that the members of the Cohen family were saved. The members of the Cohen family left the residence three weeks after liberation, aware that by virtue of the Princess's generosity and bravery had spared them from the Nazis."
During the ceremony, the Duchess was also spotted welling up while survivors shared their stories.
Their appearance at the ceremony comes after she unveiled a new photography project to mark the milestone.
Two Holocaust survivors are pictured in the photographs taken by Duchess Catherine, who said about the project, "It was a true honour to have been asked to participate in this project and I hope in some way Yvonne and Steven's memories will be kept alive as they pass the baton to the next generation."