Prince William doesn't 'shy away' from 'difficult conversations' as he follows in Prince Charles' footsteps
Prince William 'doesn't pull his punches' when it comes to causes close to his heart.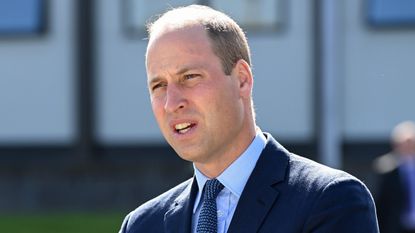 (Image credit: Photo by Tim Rooke/Pool/Samir Hussein/WireImage via Getty)
Prince William isn't one to "shy away" from having "difficult" discussions when it comes to the environment, following in his father Prince Charles' footsteps.
The Duke of Cambridge attended the Tusk Conservation Awards 2021 on November 22nd which saw the winners recognized for their dedication to conservation.
Prince William reportedly "doesn't pull his punches" when it comes to advocating for the environment, just like his father before him.
---
Prince William made a very special appearance at the Tusk Conservation Awards on November 22nd, having been a prominent supporter of the trust for many years now. The annual awards celebrate the efforts of Africa's leading wildlife protectors, with the 2021 winners being pictured beaming alongside Prince William after receiving their awards. Since 2013, 29 rangers have been honored for their dedication and bravery in risking their lives for conservation and the Duke of Cambridge has been a proud Royal Patron of Tusk since 2005.
And this determination to affect real change is something shared by his father, the Prince of Wales. The eldest of the Queen's children and future king, Prince Charles, has been similarly vocal about protecting and sustaining the natural world, being labelled "ahead of his time" after an emotive speech earlier this year.
Now it seems that just like Prince Charles, Prince William is prepared to tackle challenging topics and speak out to fight for causes close to his heart.
According to People (opens in new tab), Prince William's friend and CEO of Tusk, Charlie Mayhew, has previously explained how the royal isn't afraid to engage in "difficult" discussions.
Charlie reportedly told the publication, "He's not the sort of person to shy away from having difficult conversations. He doesn't pull his punches."
Prince William's friend also reflected upon several high-profile occasions where the Queen's grandson entered discussions with political leaders, determined to get his vital point across. The Duke of Cambridge met with China's President, Xi Jinping in 2015 and President Barack Obama just months before, urging them to help clamp down on the illegal movement of ivory around the world.
A ban on the domestic trade of ivory in China went on to be introduced following this important meeting and Charlie revealed, "William was able to go there in an apolitical manner and have that discussion."
As a member of the Royal Family, Prince William often attends prominent engagements in an apolitical capacity. Earlier this month, he and Kate Middleton, Duchess of Cambridge joined Prince Charles and Camilla, Duchess of Cornwall at the recent COP26 climate change summit in Glasgow.
And both his and Prince Charles' commitment to advocating for the environment is something that was recognized in heart-warming style by Her Majesty.
Though sadly the Queen pulled out of COP26 after receiving advice to "rest", she instead recorded a powerful speech. During this, the monarch emotionally reflected on how her son and grandson have continued her late husband Prince Philip's leading environmental efforts.
"It is a source of great pride to me that the leading role my husband played in encouraging people to protect our fragile planet, lives on through the work of our eldest son Charles and his eldest son William. I could not be more proud of them," she powerfully declared.
And with Prince William's reported willingness to engage in "difficult conservations", the fight to conserve our planet looks set to be championed by the royals throughout the years to come.