Prince William, Catherine, Prince Harry and Meghan launch important joint mental health campaign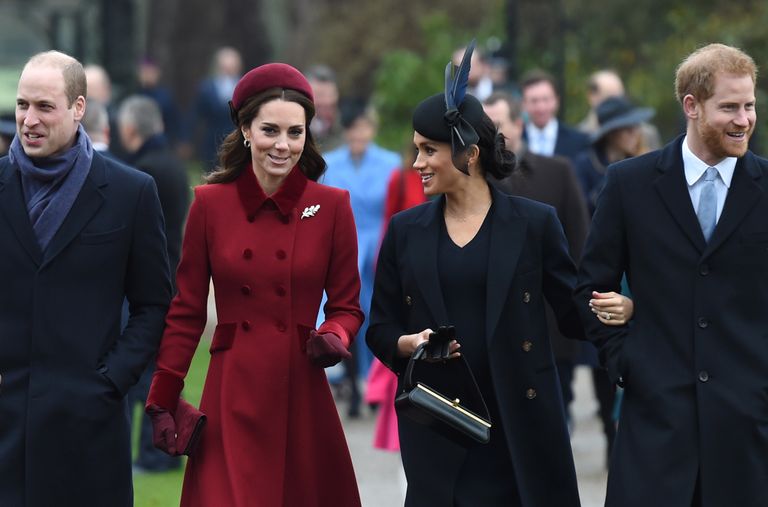 (Image credit: PA Wire/PA Images)
By Amy Hunt
The Duke and Duchess of Cambridge, and the Duke and Duchess of Sussex, may have recently separated their royal households, but it seems they'll still be uniting for important projects close to each of their hearts.
It was announced today that Catherine and Prince William have joined Meghan and Prince Harry to launch an incredibly worthwhile new service - a new, crisis text line.
Named Shout, the mental health service line will be open 24/7, and will be a place where people who are struggling can text in whenever they need someone to talk to.
The new service is a part of the couple's Head's Together initiative, which was launched by Duchess Catherine, Harry, and William back in 2016 to help support mental health.
In a video announcing the new text line, the Duke of Cambridge explained, "It connects people to trained volunteers who provide help at a time when it is most needed, enabling them to move from crisis to calm, and find longer-term support."
He went on, saying, "Over the past few months, Shout has started working quietly behind the scenes. Harry, Meghan, Catherine and I have been able to see the service working up close, and are very excited for its future."
The Shout text line already has a volunteer base of 1,000 people, but the royal couples are hoping to up that to 4,000 over the coming months.
And if you want, you can get involved and help out, by signing up to become a volunteer, here.
William, Catherine, Meghan and Harry's new mental health initiative is available to use now, by texting 85258. Or you can find out more information here.
The Duke's and Duchess's have long been passionate about improving mental health. Prince Harry and Prince William have spoken often in the past about the difficult effect their mother's death had on their mental health for much of their life.
Back in 2017, Prince Harry explained to The Telegraph, "I can safely say that losing my mum at the age of 12, and therefore shutting down all of my emotions for the last 20 years, has had a quite serious effect on not only my personal life but my work as well,
"I have probably been very close to a complete breakdown on numerous occasions, when all sorts of grief and sort of lies and misconceptions and everything are coming to you from every angle."