Prince William apparently upset Kate because he didn't 'stick up for her more' after Harry's book came out
Apparently Prince Harry's memoir took a toll on the Prince and Princess of Wales' relationship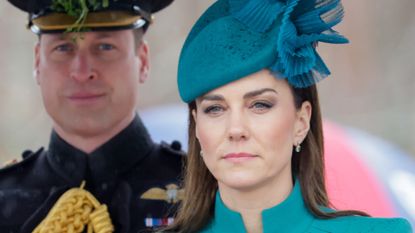 (Image credit: Getty)
Kate Middleton reportedly felt somewhat let down by Prince William following the release of Prince Harrys memoir, Spare.
---
Prince Harry 'targeted' Prince William and Princess Kate in his memoir, and it's now been revealed that Kate felt that William should have spoken out in defense of his wife, rather than following the royal rule of keeping quiet.
In the memoir, Harry alleged that Kate caused his wife, Meghan Markle, to cry during an argument before their wedding in 2018.
OK now reports that Spare "took a toll on Prince William and Kate Middleton's relationship" and "she's grown increasingly upset that her husband hasn't snapped back at his brother."
A source said, "Kate felt William should stick up for her more. Yet William and the Palace thought that saying nothing was best."
One royal source recently revealed that William has no plans to say anything about the ongoing feud with his brother. "For now, he isn't going to be commenting or reacting," the insider said. "His plan is to ride this all out. At the end of the day, he will still be the Prince of Wales, and that's what he is focused on."
The strain on the Wales' relationship comes after it was reported that Kate and William's marriage is "not all sweetness" as a new book has revealed they have "terrible rows" and "throw things at each other."
Tom Quinn's new book titled Gilded Youth: An Intimate History of Growing Up in the Royal Family sheds a light on the Wales' marriage. He said, "Someone at the Palace told me about the nicknames they have for each other. But it's not all sweetness.
"They have terrible rows where they throw things at each other. Kate might seem to be a very calm person, and William also. But it's not always true. Because the big stress for William and Kate is that they're constantly surrounded by [Palace aides]. It's like a Jane Austen novel."
He added that, despite the "shouting" matches, "calm" Kate is always able to smooth things over with William.
"Kate is very much the calm one," he said. "William is the one who's a bit hotheaded. Kate is very level-headed. She's the one who will pour oil on troubled waters and go, 'Let's not stir things up.'"
In his book, Tom Quinn also documents royal family nicknames with a passage from a former member of palace staff revealing that Kate calls William "babe," when all is good between the pair, but when he fusses over her "endless mane of hair," she turns to jokingly calling him "baldy."
William, according to Quinn's reports, often calls his wife "Babykins," "Duchess of Doolittle," or the shortened version of "Duchess of Doolittle," "DoD." It has long been alleged that "Duchess of Doolittle" is a "gentle dig" made at Kate, referencing the criticism she reportedly faced from Queen Elizabeth II for not having a full-time career before marrying Prince William in 2011.
But not all the nicknames are harmless fun. One source told Quinn that when William "is cross" with his wife, he calls her "darling," showing his "signs of annoyance" with a distinctive change in tone.
Robyn is a celebrity and entertainment journalist and editor with over eight years experience in the industry. As well as contributing regular to woman&home, she also often writes for Woman, Woman's Own, Woman's Weekly and The Sun.