Royal family nicknames: What the royal family call each other in private
Even the royal family use nicknames!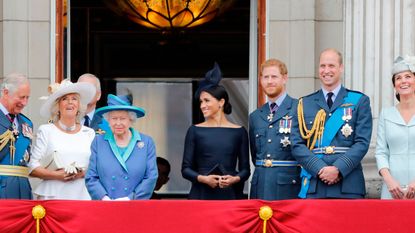 (Image credit: TOLGA AKMEN/AFP via Getty Images)
woman&home newsletter
Sign up to our free daily email for the latest royal and entertainment news, interesting opinion, expert advice on styling and beauty trends, and no-nonsense guides to the health and wellness questions you want answered.
Thank you for signing up to . You will receive a verification email shortly.
There was a problem. Please refresh the page and try again.
Following the royal news that Meghan and Prince Harry have welcomed a baby girl to their family, the spotlight has been firmly on the name they've chosen for their new daughter. The name, Lilibet Diana Mountbatten-Windsor uses 'Lilibet' which was the Queen's nickname while she was growing up, but the Queen isn't the only royal with a nickname, it seems they run in the family— from Prince William to Prince Charles—here's what they call each other in private...
What goes on behind Palace doors is a constant source of fascination for royal fans. When away from the glare of the cameras and the confines of day-to-day royal duties the question on everyone's lips is are Catherine, William, Meghan and Harry et al just like the rest of us?
In one respect at least the answer is yes, as it appears the royals love nothing more than ditching the formality of their given names and referring to each other by adorable nicknames. Here are just a few of the monikers the royals go by—get ready to see them in a different light...
What does Prince William call the Duchess of Cambridge?
Prince William and Catherine appear to be quite the jokers with their choices of nicknames for each other. It has been revealed the Duchess of Cambridge refers to her husband as 'Baldy'! How cheeky! It is thought this came about after Prince William complained about Catherine's long hair.
But don't worry, Prince William certainly gets his own back by calling her 'Duchess of Do-Little'...
It has been said the Queen criticized Catherine for not having a full-time job before marrying her grandson. The Duchess is now incredibly busy but perhaps the nickname has stuck.
What did Prince Philip call the Queen?
Growing up Her Majesty was known as 'Lilibet', an affectionate shortening of her first name Elizabeth. So far, so sensical. But then we're thrown a curveball in relation to the term of endearment used by her husband Prince Philip. The Duke of Edinburgh reportedly refers to his wife as 'cabbage'.
The Star suggested this was derived from the French phrase "mon petit chou", meaning "my darling", which has a literal translation in English of "my little cabbage."
And if this wasn't quirky enough, as a boy Prince William referred to his grandmother as 'Gary', when he struggled to pronounce the word granny.
"The Queen was on hand after William fell over at Buckingham palace, bawling: 'Gary, Gary'," revealed high society gossip columnist Richard Kay in the Daily Mail.
"A guest who went to help asked who Gary was, assuming it must be a member of the royal household.
"'I'm Gary,' explained the Queen, as she scooped him up. 'He hasn't learned to say Granny yet.'"
And it's a case of like father like son, as a young Prince George also struggled to refer to his great grandmother as such.
Revealing all in a documentary to mark the Queen's 90th birthday The Duchess of Cambridge said at the time;
"George is only two-and-a-half and he calls her Gan-Gan.
"She always leaves a little gift or something in their room when we go and stay and that just shows her love for the family."
The cute-as-a button nickname proved so popular that according to American biographer Kitty Kelley 'gan'gan' was adopted by Prince Charles, William, and Harry to address their respective great-grandmothers.
It is thought the Duchess of Cambridge refers to the Queen as 'Mama'.
What do Prince Charles and Camilla Parker Bowles call each other?
We rarely see grand displays of public affection from the Duke and Duchess of Cornwall, so it's adorable to hear that they have sweet pet names for each other away from the spotlight.
The royal couple are speculated to call each other 'Fred' and 'Gladys'. While details on the backstory for these names is scant, we think the Duchess of Cornwall's 2010 visit to the set of Coronation Street may have provided some inspiration.
It's also been revealed that Prince George and Princess Charlotte, have an adorable nickname for their grandfather. According to royal author and correspondent Robert Hardman they use the moniker 'Grandpa Wales' giving a sweet nod to one of the Charles' official titles—the Prince of Wales.
And he is not alone with the youngsters reportedly calling The Duchess of Cornwall 'Ga-Ga'.
What's Prince Harry's nickname for Meghan Markle?
After tying the knot on the 19th of May 2018 Harry and Meghan continue to rip up the royal rule book when it comes to public displays of affection. Whether it's holding hands or sharing a cheeky peck on the lips, few royal fans will be in no doubt of the love they share.
And details of their nicknames for each other are bound to induce another 'aww' moment amongst royal fans.
Meghan's friend Gina Nelthorpe-Cowne revealed that the Duchess calls her husband "Haz" for short, while according to Hello, Harry uses 'Meg' as the term of endearment of choice for his wife.
But it's not all sweetness and light when it comes to nicknames for Harry and Meghan as Prince Charles reportedly refers to his new daughter-in-law as Tungsten – a type of metal.
This is apparently because it represents something 'tough and unbending', a potentially fascinating insight into Meghan's relationship with the royal family.
We can't wait to hear what other royal nicknames pop up soon.
Miriam worked for woman&home for over five years and previously worked on the women's lifestyle magazines Woman and Woman's Own.