Royal biographer reveals Prince Harry's 'lucky escape' from dangerous incident with a rhino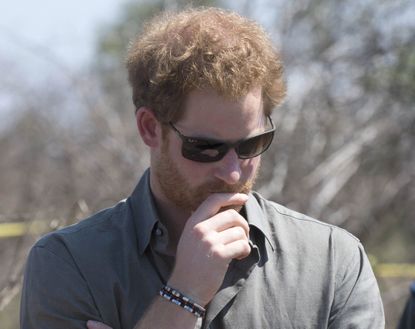 (Image credit: REX/Shutterstock)
Katie Nicholl has revealed how Prince Harry had a "lucky escape" from a "near-death experience" when he was dragged twenty feet by a semi-sedated rhino in the summer of 2015.
She details the harrowing experience in her biography, Harry: Life, Loss and Love. Working on a conservation project with Rhino Conservation Botswana (RCB), the Duke of Sussex was helping to capture endangered black rhinos and fit them with tracking devices.
However, the team "had not administered enough tranquiliser" to one particular rhino, and it "tried to charge".
MORE:Prince Harry's hilarious reaction to Meghan 'shrine' during Valentine's Day engagement
According to Map Ives, the RCB's director, the Prince didn't get any special treatment - from either the rhino or the rest of the team.
"The rhino dragged Harry and the men around for a bit, and it was hairy because it's a dangerous animal to work with," Map told Katie.
"There were six guys on the ropes and they all got dragged a good twenty metres before they managed to stop the rope."
But Harry apparently took the hairy moment in his stride. "I told Harry and the boys to get the dust off of their noses and get on with it," said Map.
"It was bloody funny actually. Harry went down, they all did, but Harry's got a hell of a sense of humour."
A member of a different conservation team dragged for half a mile by a sedated rhino needed surgery, so the Prince had a lucky escape.
"Trying to stop a three-ton rhino with a rope and a blindfold isn't easy," he later revealed. "Especially in this harsh terrain in Botswana."
Amazingly, Harry's father Prince Charles has also had a close encounter with a rhino. The heir to the throne was almost attacked in his sleeping bag while he was on a safari holiday in Kenya with his sister Princess Anne in 1971, according to biographer Anthony Holden.
Harry and Meghan are said to have bonded over their love of conservation, and reportedly fell in love in Botswana in Africa just weeks after meeting.
Harry has called the continent his "second home", and it's the place he, Prince William and his dad escaped to after the death of Princess Diana in 1997.
Samantha Simmonds is a freelance journalist, content writer, copywriter, and editor based in London.
She graduated from Reading University with a First Class degree in Psychology, later achieving a Distinction in her Diploma in Fashion & Personal Styling from The London College of Style.
Samantha is currently creating digital editorial content for John Lewis, writing for The Edit's wellbeing channel. She also writes for publications including Women's Health, Top Santé, Refinery29, GoodtoKnow, Cosmopolitan, Healthy, Health & Wellbeing, woman&home, and Yahoo, and has created commercial content for brands including Berghaus, Amazon, and Regaine.