Prince Harry receives mental health diagnosis in live-streamed therapy session as he hits back at critics of his over-sharing
Prince Harry was diagnosed with Attention Deficit Disorder by a trauma expert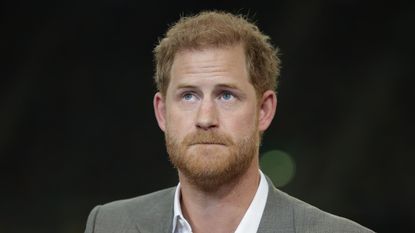 (Image credit: Chris Jackson/Getty Images for Invictus Games Dusseldorf 2023)
As Prince Harry continues the press tour for his record-breaking memoir, Spare, his latest venture has involved live streaming a chat with a therapist and trauma expert. For $60, viewers in the United Kingdom, Canada and United States could tune in to watch Harry's candid interview with Dr. Gabor Maté, who diagnosed the Duke with Attention Deficit Disorder (ADD).
Prince Harry received a live diagnosis of Attention Deficit Disorder (ADD) from Gabor Mate, a trauma expert, during a streamed session to promote his book
In the talk, Harry also opened up about how Meghan Markle "saved him" and how he turned to drugs to deal with many of his experiences
---
On Saturday (March 4), Prince Harry sat down with Dr. Gabor Maté to discuss his record-breaking memoir Spare, diving deeper into the book's themes around trauma and mental health.
Perhaps surprisingly to Harry, he ended up receiving a diagnosis from the doctor after their discussion. Dr. Maté suggested that the Duke of Sussex might be struggling with a number of disorders including ADD, PTSD (post-traumatic stress disorder), anxiety, and depression.
He told Harry, "Reading the book I diagnose you with ADD, I see it as a normal response to normal stress, not a disease."
Harry joked after the diagnosis, "Thanks for the free session."
Harry actually shared that it wasn't the first time he'd discussed the idea of suffering from PTSD.
"When I started to really unpack 12-year-old Harry at the point of where my mother died, that did start to unravel all sorts of other moments. It was scary. I turned what I thought was supposed to be sadness to try to prove to her that I missed her, to realize that actually she just wanted me to be happy. And that was a huge weight off my chest."
Harry then added that he'd used ayahuasca – a psychedelic drug - to, "deal with the traumas and pains of the past".
He said, "I started doing it recreationally and started to realize how good it was for me. It is one of the fundamental parts of my life that changed me and helped me deal with the traumas and pains of the past."
However, it was his wife, Meghan Markle, who received the most credit for helping Harry on his journey of healing.
"My wife saved me, I was stuck in this world and she was from a different world and helped draw me out of that. But none of the elements of my life now wouldn't be possible without me seeing it for myself. You have got to start with change within yourself."
"My partner is an exceptional human being and I am eternally grateful [for her]."
Other highlights from Harry's chat include him once again touching on the lack of affection he received from his father, King Charles, growing up.
He joked that this has now led to him "smothering" his children with love.
As for the critics who have hit out at Harry's constant oversharing, the prince claimed sharing his trauma in bestseller Spare was an "act of service."
Jack Slater is not the Last Action Hero, but that's what comes up first when you Google him. Preferring a much more sedentary life, Jack gets his thrills by covering news, entertainment, celebrity, film and culture for woman&home, and other digital publications.
Having written for various print and online publications—ranging from national syndicates to niche magazines—Jack has written about nearly everything there is to write about, covering LGBTQ+ news, celebrity features, TV and film scoops, reviewing the latest theatre shows lighting up London's West End and the most pressing of SEO based stories.