Prince Harry is giving his children the California upbringing Princess Diana would have wanted, says former butler Paul Burrell
Like Prince Harry, Diana also dreamed of a life of freedom on the California coast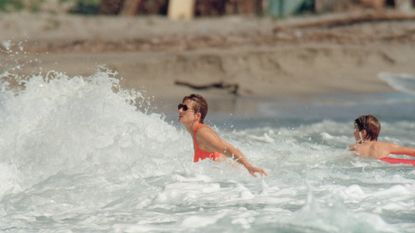 (Image credit: Getty)
Princess Diana had planned to move to California in the months before her tragic death just like her son Prince Harry, reveals her former butler, Paul Burrell.
---
Prince Harry and Meghan Markle stepped back from their roles as senior working royals last year to begin a new life for their family across the pond. They first moved from their UK home in Windsor, Frogmore Cottage, to Canada, then to LA to be closer to Meghan's mother, Doria Ragland, and have finally settled in Montecito, Santa Barbara.
But according to new claims by Princess Diana's close friend and former butler Paul Burrell, Harry isn't the first royal to have dreamt of starting afresh on the California coast.
Burrell revealed that Diana had been planning to move to the US with her sons in the months leading up to her tragic death.
He told ABC News that she said of her escape plan, "This is our new life, just won't it be great, think of the lifestyle, the boys—nobody's judgmental here in America, you don't have the class system, you don't have the establishment."
He added, "[The house] was going to be in Malibu...I saw the plans. We sat on the floor, spread out all the maps and the layout of the house."
Prince William and Prince Harry, then aged 12 and 15, were based in the UK at the time, with Diana sharing joint custody with their father Prince Charles. But the ex-butler claimed that the princess's plans were very realistic, and it's unlikely the Royal Family would have tried to prevent her from moving stateside.
"She's [Princess Diana] not going to be King. Neither are her kids going to be queens. Why couldn't they come and spend a portion of their time in America? That would be very stiff and stauncy if the queen would say, 'No, they can't go to America'," Burrell revealed.
This isn't the first time Paul Burrell has been vocal to the press about Harry and Meghan. Princess Diana's former butler gave a stark warning to Prince Harry regarding his 'self-destructive' interviews last month, warning him that his confessionals could cause long-term damage.
Burrell's claim that Diana wished to head for the California coast was backed up by Diana's former voice coach, Stewart Pierce, who confirmed the Princess's plans to move to Malibu—one hour down the coast from where Harry and Meghan currently reside in Montecito with their children Archie and Lilibet.
"She was talking about buying a property in Malibu [and saying] that would be 'really great' for the boys to have freedom so that they could surf," the former aide told US Weekly.
"Because they're both very sporty, you know, but they could surf, they could rollerblade, they could Frisbee."
Prince Harry has previously spoken of the freedom his new life in California has afforded his family.
"I guess the highlight for me is sticking [Archie] on the back of the bicycle in his little baby seat and taking him on these bike rides, which is something I was never able to do when I was young," Harry told Oprah during their tell-all TV interview earlier this year.
The couple have other family ties to California—as Meghan grew up in Hollywood, and her mother, Doria, still lives nearby.
Kate is a freelance contributor to woman&home, covering everything she loves most: fashion, fiction, and fancy face cream. If she's not working, she's probably reading, feeding her online shopping addiction, or judging the taste level of celebrity houses (10/10 for Dakota Johnson, 2/10 for Tan France).

She graduated from Central Saint Martins in 2020 with a BA in fashion journalism, and her byline has also appeared in British Vogue, The Times, and Marie Claire.