Prince Harry and Duchess Meghan reveal why lockdown has been a 'testing time'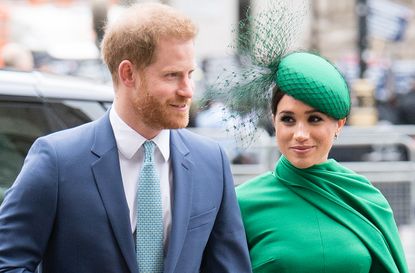 (Image credit: Samir Hussein/WireImage)
Prince Harry and Duchess Meghan have opened on how lockdown has been a 'testing time' for all.
It's always a lovely surprise to receive a letter through the post, but that feeling must be amplified when it's a letter from royalty.
That's clearly how the staff at StreetGames felt when they read words penned by the Duke and Duchess of Sussex, Prince Harry and Duchess Meghan.
'We wanted to write and express our heartfelt thanks to the team at StreetGames, following their support delivering Hubb Community kitchen meals throughout London' said the note, which the charity proudly posted on Twitter.
'The impact of COVID-19 has been a scary and testing time for so many people from all walks of life, all over the world. However, it is difficult times like these that goodwill to others and community spirit prevails,' it continued.
The letter went on to state how 'touched' the Duke and Duchess were to 'witness from afar the coming together of the organisations we champion and so deeply care about' before reiterating their passion for youth organisations by praising 'the compassion and leadership of young people across the StreetGames network' and their 'kindness and selflessness that inspires others to do better.'
In response the charity wrote, 'Wow! Thank you so much Harry and Meghan for your kind words and your continued support for StreetGames and the brilliant local organisations working to support their communities in these challenging times.'
StreetGames was set up to provide sport to disadvantaged young people across the UK in order to tackle 'increased inequality, hunger, inactivity and isolation.'
Struggling families have only £3.21 a week to sports activities, compared to the national average of £12.11.
In recent months, the organisation has utilised its presence in the community to deliver Hubb Kitchen meals to people in need. The Duke and Duchess's letter –which was signed Harry & Meghan with no use of their royal titles – was to express thanks for those efforts.
Debra Waters is an experienced online editor and lifestyle writer with a focus on health, wellbeing, beauty, food and parenting. Currently, she writes for the websites and Woman&Home and GoodtoKnow, as well as the Woman, Woman's Own and Woman's Weekly magazines.
Previously, Debra was digital food editor at delicious magazine and MSN. She's written for M&S Food, Great British Chefs, loveFOOD, What to Expect, Everyday Health and Time Out, and has had articles published in The Telegraph and The Big Issue.