Prince George's 'burden' that Kate Middleton and Prince William don't want to 'weigh down' on him
Kate Middleton and Prince William are said to want to prevent Prince George's 'burden' of becoming King to impact his childhood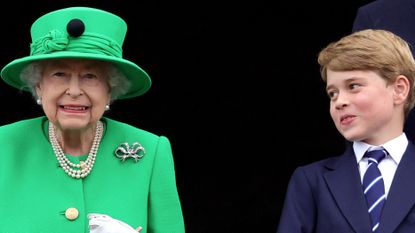 (Image credit: Getty Images)
Prince William and Kate Middleton are hoping to prevent Prince George from feeling the "burden" of the fact he will one day be King, a royal expert has claimed.
---
According to royal expert and author, Katie Nicholl, Prince George is aware of what is in store for him when he grows up, however Kate and William have made an effort to ensure that the young royal, who is third in line to the throne, doesn't feel the weight of it too soon.
It's believed that young Prince William found it hard to process the concept that he would one day have the responsibility of being monarch, prompting him to want to make things different for his eldest son.
Speaking to OK! magazine, Katie explained, "William struggled with [knowing his destiny] when he was a young man and he's very keen George doesn't experience that same sense of burden from an early age.
"George understands the order of succession, and he knows that one day he will be king, but he also knows that's a long way in the future. It's not made into a big deal."
Pointing out that Prince George doesn't appear to be as bold as his siblings while out in public, Katie added that his confidence with royal duties is slowly but surely growing, thanks to his mom and dad easing him in gently.
"He's not as outgoing or as extroverted as his sister or little brother but he seems quite comfortable taking on the few public duties he's done," she added.
"The engagements that William and Kate have brought him to are things where George is going to feel comfortable."