Princess Diana's brother's warning to Prince Harry before he married Meghan Markle
Princess Diana's brother's warning to Prince Harry about marrying Meghan has been detailed in a new royal biography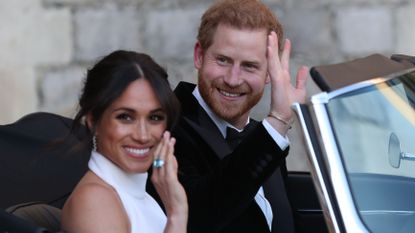 (Image credit: Getty Images)
Princess Diana's brother's warning to Prince Harry ahead of his marriage to Meghan Markle has been detailed in a new biography about the Duke and Duchess of Sussex.
After meeting for their first date in the summer of 2016, Prince Harry and Meghan Markle shared a whirlwind romance, with Harry popping the question in 2017.
It's been claimed that Prince Harry and Prince William's uncle, Earl Charles Spencer, had a warning for his sister's youngest son about asking Meghan to marry him.
In other royal news, Meghan Markle's words to describe Prince Harry after their first date have been revealed.
---
According to royal expert Tom Bower's new book, Revenge: Meghan, Harry and the War between the Windsors, Princess Diana's brother had some stern words for Prince Harry about his decision to marry Meghan Markle, just years before they swapped Frogmore Cottage for a new life in California.
The explosive biography claims that Prince Harry's hopes for Princess Diana's sisters, Jane and Sarah, and her brother, Charles, to see Meghan as similar to the late Princess of Wales fell flat.
"Harry had introduced Meghan to Diana's two sisters, Jane and Sarah, and her best friend Julia Samuel. Harry assumed that Diana's family and friends would see a similarity between Diana and his fiancée," Bower explained in the book.
"Both, he said, shared the same problems. He was disappointed. No one agreed that his vulnerable mother had anything in common with his girlfriend. More discomforting for him, they thought Meghan would not fit in with the Royal Family," he added.
"Their unease was voiced by Charles Spencer, Diana's brother. At William's request, Spencer weighed in.
"Three times married, Spencer cautioned his nephew to reconsider his haste towards marriage. His advice provoked a bitter reaction," the passage continues, alleging that Prince William encouraged Earl Spencer to speak to Prince Harry.
It has previously been claimed that Prince Harry was furious with William's interference, with royal biographer Christopher Andersen reporting that Harry was "furious that his brother was actively seeking to have others interfere in his personal affairs".