The clever make-up trick that helps Meghan Markle look more awake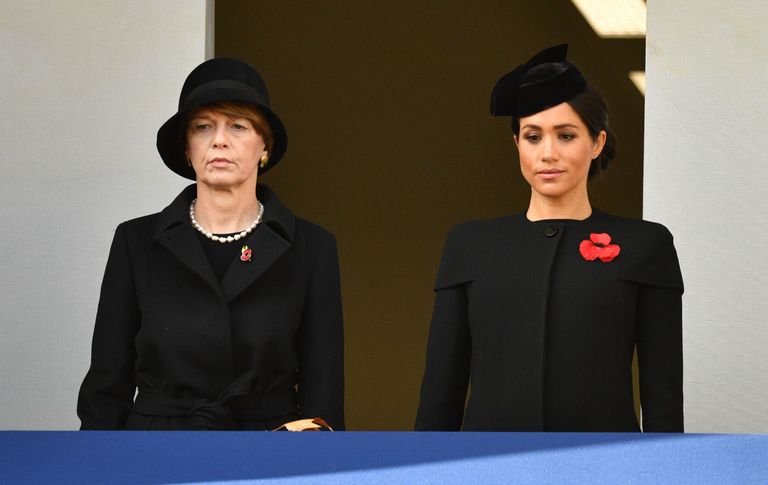 It's been a hectic few months for the Duchess of Sussex.
Shortly after announcing her first pregnancy with husband Prince Harry last month, Meghan Markle completed a 16-day tour of Australia, Fiji, Tonga and New Zealand, danced the night away at father-in-law Prince Charles' 70th birthday bash and showed her respects at the Armistice Centenary service at Westminster.
If we were in the Duchess's shoes, we'd be feeling – and likely looking - pretty exhausted. But it would appear Meghan has a few nifty make-up tricks up her sleeve when it comes to retaining a fresh face.
It's no secret that the Duchess dabs on highlighter - Laura Mercier Foundation Primer Radiance, to be precise - for a healthy glow, but there's also another product that appears to have become Meghan's go-to for brighting up her complexion – nude eyeliner.
Speaking to FEMAIL, celebrity make-up artist Francesca Abrahamovitch revealed that Meghan appears to have swapped her usual chocolate brown eyeliner for something lighter.
"Meghan appears to be wearing a nude eyeliner in her lower waterline. I love this look and use it a lot on my clients, especially when they have super-early starts," she explained.
"It's a really effective way of making your eyes appear bigger and brighter.
"It also hides any redness or tiredness making it look as though you've had a full eight hours sleep - even when the reality is very different," said Francesca.
During her career as an actress, Meghan was more than happy to disclose her beauty secrets. Speaking to Beautybanter.com in 2016, she revealed why Laura Mercier's cult classic highlighter is a fundamental part of her make-up routine.
"I don't wear foundation unless I'm filming," Meghan explained.
"So this is what I put on every day after moisturiser to give my skin a dewy glow. It's not sparkly, it's true to its name, illuminating."
So how can we copy Meghan's make-up trick with nude eyeliner?
"Simply trace your white or flesh-toned pencil along the area just above your lower lashes and pair with mascara," advises Francesca.
"If you still want smoulder, smudge your dark pencil below it.
"As long as you steer clear of that all-important waterline, you'll maintain the eye-brightening illusion."