Meghan Markle's feminist necklace pays homage to her unborn daughter
Meghan Markle's feminist necklace is an adorable tribute to her unborn daughter with Prince Harry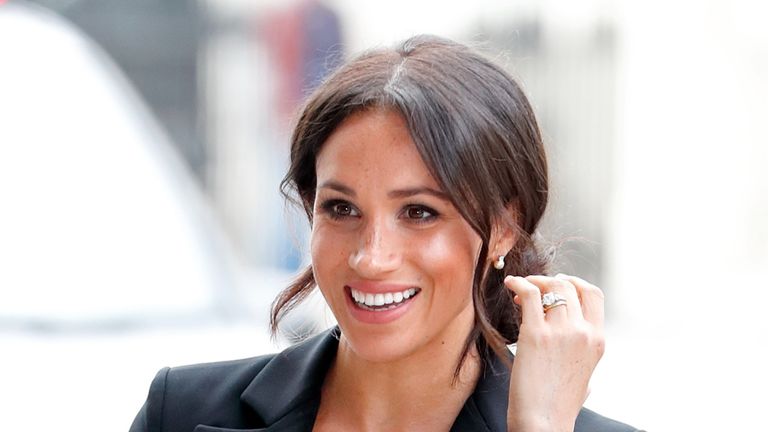 (Image credit: Max Mumby/Indigo/Getty Images)
Meghan Markle's feminist necklace is the new item we all want,  and the stunning necklace has an adorable meaning behind it.
• Meghan Markle made a virtual appearance at a Vax Live event.
• The royal wore a distinct feminist-inspired necklace that pays homage to her unborn daughter.
• In other royal news, Prince Charles once gave Meghan Markle some unexpected fashion advice.
---
From Kate Middleton's pearl earrings to Meghan Markle's stunning pink cocktail ring, the royals are often trendsetters when it comes to their accessories and Meghan Markle's feminist necklace is the newest item that we've fallen in love with. So if you too are looking for a jewelry update, Meghan's favorite new designer might just be the perfect answer.
Pregnant Meghan Markle made her first TV appearance since that tell-all Oprah Winfrey interview at a Vax Live event. She wore a poppy printed red dress as she sat outside for her virtual message. With her long hair swept to one side in gentle curls, the delicate jewelry really complimented her look. 
Meghan's stunning delicate gold necklace is the 'woman power charm necklace' from Awe. 
"The Woman Power Goddess Charm combines the female Venus symbol with a protesting fist. It is embellished with a genuine purple amethyst, a protective stone associated with abundance and enlightenment," states the brand.
Meghan's feminist necklace pays particular homage to her unborn daughter, as in her speech she spoke about her excitement about meeting her daughter. She said, "My husband and I are thrilled to soon be welcoming a daughter, it's a feeling of joy we share with millions of other families around the world."
She then spoke about making the world a better place for women, and therefore her daughter, saying, "When we think of her, we think of all the young women and girls around the globe who must be given the ability and support to lead us forward. Their future leadership depends on the decisions we make and the actions we take now to set them up, and set all of us up, for a successful, equitable, compassionate tomorrow. We want to make sure that as we recover, we recover stronger. That as we rebuild, we rebuild together."
This message falls in line with Awe's ethos as a brand. Awe states, "We design fine jewelry as a vehicle for self-empowerment. Our beloved Goddess Collection, which celebrates iconic women from past, present, and mythology, is worn regularly by the most inspiring women in the world."
Many other A-listers are also fans of Awe's feminist items. Celebrities such as Madonna, Sarah Jessica Parker, Tyra Banks, Ashley Biden, Chrissy Teigen and Halle Berry have all been seen wearing items from this progressive brand who donate 20% of all proceeds to charities that help women.