Prince Charles once gave Meghan Markle some unexpected fashion advice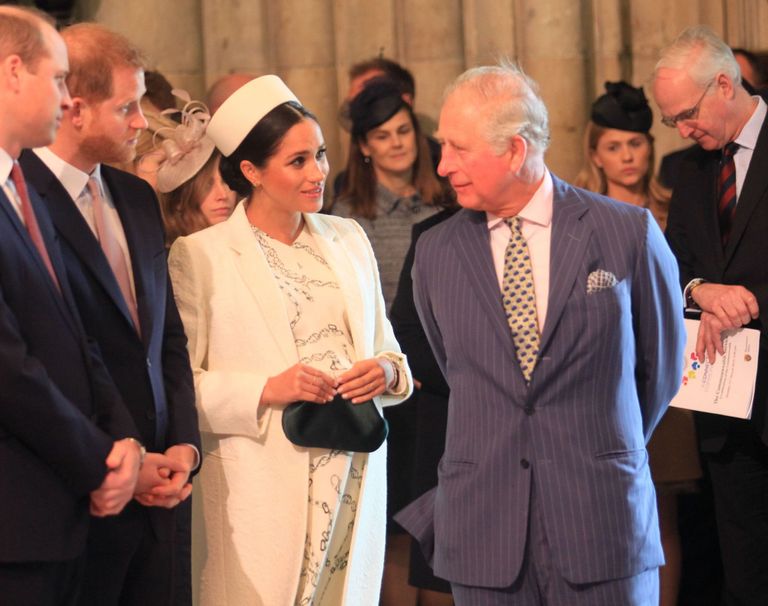 Transitioning from Hollywood to royal life may not be easy, but Meghan Markle has taken to her Duchess role smoothly since tying the knot with Harry last year.
Meghan is known for her gorgeous, classic style, which she's kept since becoming a royal. Who could forget her famous black nail varnish beauty look when she appeared at the British Fashion Awards in December 2018?
And while you might expect that Prince Charles would be the last person the stylish Duchess would turn to for fashion advice, it seems he gave her a very helpful sartorial steer during her first royal tour.
To help Meghan stick to royal protocol, father-in-law Charles was on hand with fashion advice during a formal dinner when she was in Fiji., according to a Mail on Sunday source.
On the evening, Meghan wowed fans in a gorgeous caped blue gown. Finishing off the look with navy blue suede heels and diamond drop earrings, the Duchess looked incredible, however many royal watchers noticed she wasn't wearing a tiara.
Apparently, it was Prince Charles who told Meghan to avoid donning a tiara, as it's seen as too "extravagant" in some countries.
"Meghan did not understand all of this because she was new to the role, and so Prince Charles told her that it would not be appropriate. It was very kindly done," said the Mail on Sunday source.
Reportedly, the Prince of Wales drew on his own expertise, having been sticking to protocol himself for decades now.
MORE:Princess Eugenie welcomes Duke and Duchess of Sussex to Instagram with sweet message
"The Prince, having travelled to all these places many times over many years, is very well placed to give advice on such matters," the source added.
Had the Duchess stayed in the UK, the sparkling accessory would have been more appropriate. While Meghan was busy in Fiji, the Duchess of Cambridge sported the famous Lover's Knot tiara at a state banquet held at Buckingham Palace for King Willem-Alexander and Queen Máxima of the Netherlands.
In fact, Meghan is rarely seen wearing a tiara and has only been seen in one on her wedding day, when she wore Queen Mary's Sapphire Bandeau.
Tiara or no tiara, we think she always looks fabulous!