Meghan Markle had 'overly romantic and unrealistic' expectations of being royal before she married Prince Harry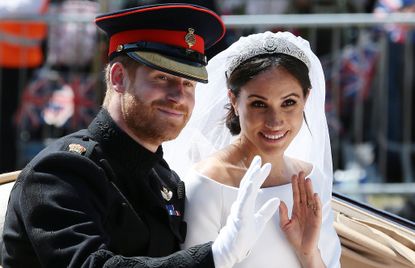 (Image credit: AFP via Getty Images)
A royal expert has claimed that Meghan Markle had "unrealistic" and "overly romantic" expectations about being in the royal family before she married Prince Harry.
The Duke and Duchess of Sussex tied the knot at Windsor Castle in May 2018 but stepped back from their roles as senior members of the royal family earlier this year.
The pair shocked the world when they announced their plans to ditch royal life to become "financially independent".
Since their royal departure, the couple have moved across the pond to raise their one-year-old son, Archie, in Los Angeles.
Now, royal biographer Ingrid Seward has suggested that the former Suits actress and Prince Harry's royal exit may have stemmed from Meghan's romanticised expectations of life as part of the Monarchy not being met.
"In my view, she also had overly romantic, unrealistic expectations about what the Royal Family and the institution of the Monarchy, with its castles and palaces, was all about," Ingrid wrote in the Daily Mail.
Majesty magazine Editor-in-Chief Ingrid also referred to the Sussex's new tell-all biography, Finding Freedom, which was written by authors and journalists close to the pair about their shock move.
"It might seem easy to blame the arrival of Meghan among the royals for the new atmosphere of tension and, at times, anger.And certainly, she was used to a different way of working, as Finding Freedom makes clear.
"She complained about having to take a back seat and didn't seem to understand compromise.Her success had built on determination and the fact that she had always refused to give in."
Although the Duke and Duchess are said to have had no involvement in the writing of the book, Finding Freedom is set to "reveal unknown details of their lives together" and "dispel the many rumours and misconceptions which have plagued the couple on both sides of the pond".