Meghan Markle could take a new surname once royal split becomes official this month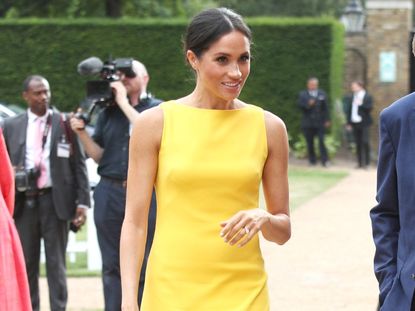 Meghan Markle is set to take on a new surname once her departure from royal duties becomes official at the end of this month.
The Duchess of Sussex has continued to be known simply as Meghan, but she might choose to use another royal surname as she embarks on non-royal life.
What could Meghan Markle be known as?
Meghan will have the option to adopt the same surname the Queen and Prince Philip picked to pass on to their descendants.
While traditionally, the majority of Royal Family members use their titles as surnames, male-line heirs of the monarch have been granted the right to use Mountbatten-Windsor when required.
Meghan and Harry chose to give their son Archie Harrison the Mountbatten-Windsor surname, in a touching tribute to the Duke of Edinburgh.
He was born in May 2019, just months before the couple decided to step down from royal duties and relocate to Canada in January.
The Duchess of Sussex could therefore decide to match her son and choose to be known as Meghan Mountbatten-Windsor.
This comes after the producer of The Simpsons told Meghan to 'give them a call' for voiceover work, after hearing she's keen to get back to her acting roots.
Speaking to the Radio Times, executive producer, Al Jean, said he'd like to feature Duchess Meghan in the show.
He said, 'We've talked about Harry and Meghan. I hear she wants to do voiceover work.
'So if they're reading this, give us a call.'
Robyn is a celebrity and entertainment journalist and editor with over eight years experience in the industry. As well as contributing regular to woman&home, she also often writes for Woman, Woman's Own, Woman's Weekly and The Sun.