Meghan Markle steps out in striking high street dress on International Women's Day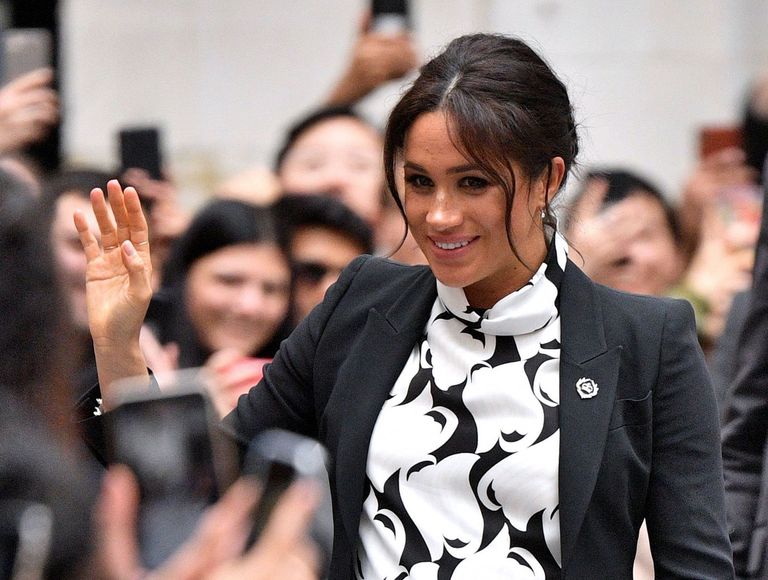 Meghan Markle's style is highly sought after, so it's always appreciated when her outfits can be found on the high street.
While she normally favour designer gear, at an event today (Friday 8th March), she wore a rare high-street find.
The Duchess of Sussex wore a dress from popular retailer Reiss, whilst taking part in a panel discussion convened by the Queen's Commonwealth Trust on International Women's Day.
The Azzura black and white swirl printed shift dress is incredibly chic, as proved by the ever-stylish Meghan.
This dress has a feel of the 1960s and would be ideal for an evening do. We especially love the high neckline!
Reiss recommends wearing it with a longline coat and heels for a sophisticated look, like the Duchess'.
The black and white number is only available in size 4 online with certain sizes selling out on Reiss' website just hours after Meghan was spotted wearing the dress, so we can only hope more sizes will be released in the future!
The dress from Reiss costs £185 and you can buy it from here.
Will you be stealing Meghan Markle's style? We love it when her fashion must-haves are so easy to find!
The Duchess of Sussex attended the panel event as a mark of International Women's Day. Kensington Palace shared a post on social media describing the event saying, 'The Duchess of Sussex joins today's unique #InternationalWomensDay panel, convened by @QueensComTrust, to discuss the obstacles that women face and the global opportunities that could be unlocked if girls and women are treated fairly and equally alongside men.'
Royal fans took to social media to share their love and support for the Duchess of Sussex. One person said, 'She's so beautiful! Inside and out' while another person said, 'I am grateful we have very strong women at #KensingtonPalace...every one of them!! Grateful for all they do, Happy #IWDay2019'
Meghan Markle was appointed the role of vice-president of The Queen's Commonwealth Trust on International Women's Day. Find out more about her new rolehere.
Fans were delighted with the news. One person commented, 'Fantastic news! The Duchess Of Sussex is a very hard worker and deserves the respect she's worked so hard for. She's inspiring so many.'
Rachel Howatson is a digital writer who works across a range of publications. Whatever your passion, whether it's hillwalking, cooking, gardening, running, socialising or even sleeping, she'll likely have written about it.