Serena Williams reveals details of baby Archie's secret trip with the Duchess of Sussex
Baby Archie jetted off to New York with his mum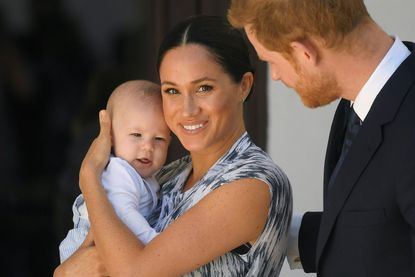 Tennis champion Serena Williams has revealed that the Duchess of Sussex, Meghan Markle, took baby Archie on a whistle stop trip to New York to watch her play in the US Open.
Back in September, Duchess Meghan was photographed attending Serena's match in the US city and it was reported at the time that she had left newborn son Archie back in the UK.
Now it has been confirmed that the Duchess jetted across the world with her tot, who was then four-months-old, to watch her long time friend Serena compete.
The whirlwind trip saw the Duchess and Archie arrive in New York and fly home hours later.
"She flew all the way with a new born to see me play in New York and flew all the way back that night, and I probably couldn't have done that," the pro sportswoman told Access Hollywood.
"It kind of goes to show you what an amazing person that she is, and that's just one of the many things that she does for me."
Serena went on to praise the Duchess for her strength, amid her recent admission that she isn't 'okay' following her transition into husband Prince Harry's royal spotlight having dealt with scrutiny from the media.
"I just really think she's the strongest, literally the strongest person I know and the nicest, sweetest," Serena explained, going on to sing Duchess Meghan's praises for being such a great friend.
"I call her, text her anytime, crying, upset – she's always there.
"Doesn't matter what she's going through, she just sets time away and she's just so amazing."