Kate Middleton's kind gesture during a recent visit that almost went unnoticed
The Duchess of Cambridge shows her heartfelt side as she attends ambulance station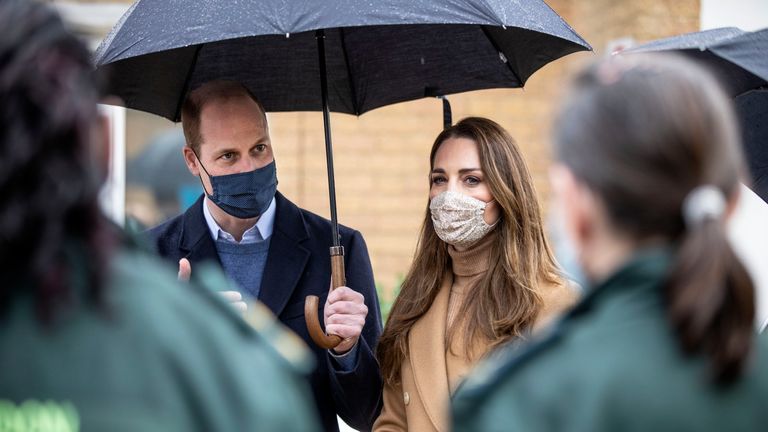 (Image credit: WPA Pool / Pool Getty)
Kate Middleton made a kind gesture during a recent visit but it almost went unnoticed
The Duchess of Cambridge showed she cared by instructing her protection officer to help out
---
Kate Middleton showed she has a caring side when she made a heartfelt gesture while meeting crew members at a London ambulance station.
The Duchess of Cambridge was taking part in an official engagement with her husband Prince William during the typical English rain when she became concerned that the heroes they were meeting were getting soaked without any protection.
Any woman knows how even the best hair dryer cannot protect you from ruining your hair in the rain and Duchess Kate asked a lady she was speaking to if she wanted an umbrella. And even though the lady politely declined, as it appeared she didn't want to make a fuss, Kate insisted she had one.
The Mirror reports Kate Middleton's kind gesture was helped when husband William was heard saying, "I feel bad you haven't got an umbrella. Would you like one?" Tow which Kate added, "Is there a spare? There's a spare one." Before looking over to her protection officer who nodded before stepping forward to hand the woman, pictured below in a red jacket, a brolly.
Kate and William were visiting Newham Ambulance station in East London and during their time there they spoke with ambulance staff and paramedics about their experiences of working during one of the most challenging periods in the London Ambulance Service's history.
Aside from Kate Middleton's kind gesture during this latest visit, over the last year, The Duke and Duchess and The Royal Foundation have worked to support those working on the frontline of the pandemic, including through the provision of grants to ten leading charities at the heart of mental health and frontline support as part of a bespoke COVID relief fund.
Kate Middleton's kind gesture almost went unnoticed as they later took part in a video call with paramedic Jay and her family in the UK and Bangladesh which caught everyone's attention.
Kate wore Massimo Dutti limited edition button cashmere wool camel coat with Kiki McDonough Citrine Pear Drop earrings and on her feet wore Jimmy Choo brown suede pumps and carried a Métier Roma Tan Small Suede Shoulder Bag as Kate Middleton's kind gesture was almost missed.
Meanwhile, a copy of Kate Middleton's heart-shaped earrings worn to previous engagements is affordable after a similar pair went on sale on Amazon.