Kate Middleton reveals the seriously impressive talent she's passed on to Princess Charlotte
Kate Middleton revealed the hidden talent during her visit to South Wales this week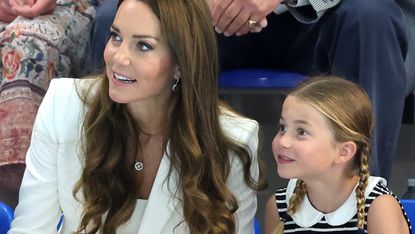 (Image credit: Getty Images)
Kate Middleton has opened up about the hidden talent she once had that she has passed on to her daughter, Princess Charlotte.
The Princess of Wales admitted she has to 'keep practising' the secret talent nowadays, but it's something young Princess Charlotte finds easy.
Kate made the revelation during a visit to Aberavon Leisure and Fitness Centre in Port Talbot, as she met children from Tywyn Primary School taking gymnastics lessons.
---
The Prince and Princess of Wales were in their namesake country on Tuesday, February 28, where they visited Aberavon Leisure and Fitness Centre in Port Talbot and met with local communities to hear about how sport and exercise can be beneficial to mental health.
While speaking to some young children taking part in gymnastics, Kate could be heard asking them, "Can you do the splits?" She then revealed, "I was able to do it when I was little, but I'll have to keep practising now."
And one one girl gave her and William a demonstration of the splits, Kate told her, "My little girl [Charlotte] likes to do that too."
Princess Charlotte revealed her passion for gymnastics at the Commonwealth Games during a joint outing with her parents last August.
During the visit, the young royal gave an insight into her favourite sports, with Tim Lawler, chief executive of SportsAid, revealing, "She really, really loved seeing the swimming, but she's interested in the gymnastics."
He added, "While they're trying lots of different sports at home, when I asked her about sport she answered very easily and said, 'It's gymnastics that I like.'"
During the visit to Aberavon Leisure and Fitness Centre, Kate showed off her sporty side when she thrashed her husband, Prince William, in a spin bike challenge - despite wearing a skirt and heels. She was even given a tiny golden trophy as a little prize for her efforts and she laughed at the gift as she held it proudly.
The sporty Princess is always keen to get stuck into physical activities and this is not the first time she has shown her competitive streak at royal engagements. Kate Middleton and Prince William got competitive on the tennis court in Edinburgh back in 2021 as the couple showed off their agility on the court.
Similarly, back in February 2022, Kate Middleton unveiled her hidden talent in an adorable new video after she replaced Prince Harry as England Rugby patron. The Princess was filmed throwing and catching a rugby ball and demonstrated to royal fans that no matter the sport, she is a fan!
Looking stylish as ever, for this engagement, Kate Middleton teamed a Zara skirt with a gorgeous cream coat and pearl earrings. The jet black and pearl white monochromatic accessories from Alexander McQueen and Mulberry perfectly complemented the Princess' chic look.
Robyn is a celebrity and entertainment journalist and editor with over eight years experience in the industry. As well as contributing regular to woman&home, she also often writes for Woman, Woman's Own, Woman's Weekly and The Sun.