Kate Middleton's hobbies—how the Duchess of Cambridge's interests are preparing her for life as Queen
Kate Middleton's hobbies are numerous and varied, but how are these interests preparing the future Queen for her role in the Royal Family?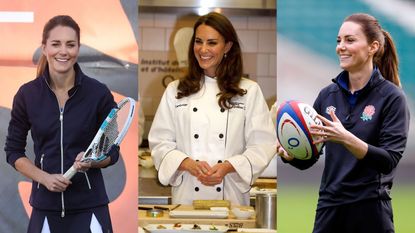 (Image credit: Future: Canva/ Getty)
woman&home newsletter
Sign up to our free daily email for the latest royal and entertainment news, interesting opinion, expert advice on styling and beauty trends, and no-nonsense guides to the health and wellness questions you want answered.
Thank you for signing up to . You will receive a verification email shortly.
There was a problem. Please refresh the page and try again.
From playing the piano to smashing it on the tennis court, Kate Middleton's hobbies are countless and diverse—here is what you need to know about the Duchess of Cambridge's many interests, and how they are prepping her to be a future Queen.
The Duchess of Cambridge has an eclectic number of hobbies that she enjoys.
A royal expert has revealed that many of these hobbies are actually preparing her for life as the Future Queen.
---
Kate Middleton has been a member of the Royal Family for the last 11 years and is the fourth most popular royal according to a recent YouGov (opens in new tab) poll. Another YouGov (opens in new tab) poll indicates that 76% of the general public believes the Duchess will one day make a good Queen and just 5% of the public think that she will not. But why is the public opinion about the Duchess so favorable?
The Duchess of Cambridge has a number of different hobbies that she balances with her many royal engagements and her life of service as a member of the Royal Family.
Carolyn Harris (opens in new tab), A Royal Historian, and Royal expert has explained exclusively to woman&home how these interests may be of use to the future Queen consort and why these specific hobbies may be making the Duchess more likable to the public as she prepares for Queenship.
Kate Middleton's hobbies
Kate Middleton's love of playing the piano
Over the last 12 months, one of the most searched terms related to the Duchess of Cambridge has been about her piano playing. While other top searches on Google about the Duchess focused on Kate Middleton's dresses or Kate Middleton's bond dress, fans were intrigued when Kate Middleton stole the show with a piano performance at the royal carol service in December 2021 at Westminster Abbey.
This hidden talent astonished fans and even encouraged a spike in the search for pianos, as many fans were seemingly inspired by this musical hobby and wished to learn more about piano playing themselves.
It was previously revealed by Catherine's former piano tutor, Daniel Nicholls, that the Duchess had a grade three piano and grade five theory. However, the former tutor told the BBC (opens in new tab), "I don't think she was ever going to be a concert pianist," how wrong he was!
While Kate's performance was highly impressive to royal fans, music and particularly piano playing has been a well-established hobby in the Royal Family and most commonly associated with the Queen herself when she was known as Princess Elizabeth.
It was well established in the Queen's early life that she and her sister Princess Margaret adored playing the piano and there are many images of the young princesses sitting together at a piano at Windsor Castle.
Her Majesty the Queen even has two honorary music degrees, both of which she received before she ascended to the throne in 1952, but the Royal Family's association with musical hobbies even predates the Queen.
"Prince Albert had a very strong interest in music and then arranging music himself," explains Royal expert Carolyn Harris. "And there was a very strong emphasis in Victoria and Albert's family, on all of their children, having some knowledge of art and music."
Although the current generation of royals have less of an association with music, this hobby has a clear place in royal households and the Duchess of Cambridge's love of piano playing is a skill that is welcomed in royal households.
Kate Middleton's passion for tennis
The Royal family's association with tennis and Wimbledon has been long established, and Kate's personal fascination with the sport pre-dates her relationship with Prince William.
In recent years fans have loved seeing Kate Middleton at the Wimbledon women's final and have adored seeing images of Kate Middleton showing her sporty side as she takes to the court with tennis champ Emma Raducanu, but it's the Duchess' genuine interest in the sport outside of royal engagements that fascinates fans.
"It's also one of those interests that clearly predates her time as a member of the royal family," explains the royal historian, who added that previously Catherine has "reminisced about lining up for Wimbledon tickets with her sister."
But Kate's love of tennis is another hobby that has a long history with the Royal Family. "King George VI played an exhibition doubles match at Wimbledon in the 1920s," revealed Carolyn speaking about the Queen's father. "King George VI was certainly an avid tennis player, and more recently, the Queen's cousin, the Duke of Kent, for many years, handed out the trophies at Wimbledon and was the was the Patron at Wimbledon."
Kate has also been photographed handing out trophies at Wimbledon and has been able to transform her love of this hobby into part of her royal duties as the Future Queen consort.
Kate Middleton's gardening hobby
In 2019, Catherine participated in the Chelsea Flower Show and created a 'Back to Nature Garden' garden, that she designed with Andree Davies and Adam White. This garden highlighted Kate's fan-appointed nickname as the Children's Princess as it incorporated activities to encourage children to find beauty in nature.
Even when it comes to less spectacular events, gardening is a chore that the Duke and Duchess of Cambridge have discussed publicly as Prince William and Kate Middleton love this household hobby, even though the Prince admits that his wife is more green-thumbed than he is. "My wife does all the gardening. I really like it, but I have no idea what I'm doing," Prince William told People (opens in new tab) in 2021.
While gardening may be viewed as one of the chores that Royalty might employ other people to deal with, Carolyn reveals that actually, the Royal Family's association with gardening goes back many generations.
"There was an emphasis in Queen Victoria's reign where the children were encouraged to learn some practical skills there, with boys trying their hand at gardening and the girls that cooking, and it was something that Queen Victoria's descendants took with them when they married into the royal houses of Europe."
It seems that this interest in gardening was specifically taught to future monarchs and has remained an important interest that has perhaps helped to ground former monarchs.
Kate Middleton love of cooking
On numerous occasions, Kate Middleton has spoken about her love of cooking and baking and has previously revealed that she has a sweet tradition for her children's birthday and will often stay up late baking them a cake.
In 2019, during a baking special with Mary Berry titled 'A Berry Royal Christmas,' Catherine said, "I love making the cake," she added that it can lead to some very late nights. "It's become a bit of a tradition that I stay up 'til midnight with ridiculous amounts of cake mix and icing and I make far too much. But I love it."
It was also reported that the Duchess made a batch of chutney as gifts for Christmas. Reportedly, Kate Middleton's 'frugal' Christmas gift for the Queen forged bond of 'mutual respect and admiration' and the Queen adored this homemade gift.
The Royal expert explained that Queen may have loved this gift because she too is an able cook and understands the significance of a homemade treat.
Carolyn Harris commented, "the coverage of Princess Elizabeth and Princess Margaret during the Second World War emphasized that they were learning how to cook at home. It emphasized that the Royal Family was going through some of the same privations as the rest of the country."
Similarly, Kate's baking abilities reflect the country's new found interest in baking. Carolyn commented, "Of course more recently we've seen with the pandemic a lot of people embracing baking and, and things like that at home."
She then added that this hobby just encourages people to think of the royal as relatable. "So it looks like it's another interest that has emerged before and this seems particularly topical now when many people have been discovering new recipes and home cooking during times when restaurants have been closed."
Kate Middleton's passion for photography
During the pandemic, the Duchess of Cambridge appeals to budding photographers to 'capture what life is like' in lockdown as she launched her Hold Still campaign.
Carolyn explained that this project was another attempt to find common ground with the general public. "The royals are trying to find ways to connect to the public and we've seen throughout the COVID-19 pandemic," explained the expert.
"There have been efforts to emphasize that the royal family are of course, living life on a grander scale, but there are these many instances where royal life intersects with some of the challenges being faced by the wider public."
Of course, Kate's love of photography pre-dates her relationship with Prince William and it is well known that the amateur photographer wrote her thesis at St. Andrews on the photography of Lewis Carroll, and acted as an amateur photographer for her family's business Party Pieces.
The royal historian suggested that this hobby is particularly significant for Kate, as her photography skills allow her to determine which images of her children are released for public consumption.
"We see the Duchess of Cambridge is both one of the most photographed women in the world. But she also takes official photographs of her children that are released to the press. And so we're seeing the Duchess's perspective on royal life and on her family, and that this is clearly an important creative outlet for her, as well as being a way to manage images of her children, reaching the wider public," said Carolyn.
This was most recently highlighted during Prince Louis' fourth birthday celebrations on April 25, 2022, when photographs that had been taken of the young Prince by Catherine were released to the public.
Like members of the Royal Family who were able to decide the artists that would work on their portraits and how they wished their subjects to view them, Kate's photography hobby allows her to decide which images of her family are released and how she wishes her family to be portrayed.
Kate Middleton's love of rugby
Catherine's love of rugby has been well established over the years and the Duchess of Cambridge's sister once revealed that rugby was a central part of the Middleton household growing up.
"We'd plan our weekends around the matches," Kate's sister, Pippa, revealed in a 2014 interview with Vanity Fair (opens in new tab). "If we lost, my dad would be in a state of despair for the rest of the afternoon, as if he'd actually lost the game himself."
After replacing Prince Harry as the Rugby Football Union and Rugby Football League patron, Kate Middleton unveiled her hidden rugby talent in a video.
Speaking about the moment when Kate was lifted by the Rugby players in the video, Carolyn Harris commented, "It's one of those moments that are making her more relatable as she's joining into these kinds of events. And the public's always fascinated by informal moments involving the Royal Family, and often sporting events provide those opportunities."
Kate Middleton's scuba diving abilities
The Duchess of Cambridge and Prince William took part in a tour of the Caribbean in celebration of the Queen's Platinum Jubilee which marks her 70-year-long reign as a monarch.
While on the tour, images of the royal couple scuba diving were released and fans were surprised to discover the real reason Kate and Will didn't need training for scuba diving in Belize. It was revealed that the royal couple both have a number of qualifications in scuba diving and in 2015, The Telegraph (opens in new tab) revealed that Kate has passed a Professional Association of Diving Instructors (PADI) Advanced Open Water Diver qualification. This meant that was qualified to dive to the depth of 30 meters (98ft) and keep up with the Duke of Cambridge who already had this qualification.
Kate's impressive interest in sea-diving is something that Prince Charles was known for in his youth reveals Carolyn.
"Prince Charles, when he was in Canada in the 1970s, went under-sea ice diving in Frobisher Bay and actually had a press conference where he demonstrated the diving suit and how it worked and was inflating and deflating the diving suit, said Carolyn as she revealed that the Prince of Wales was considered something of an action man back in the day."
It's clear that this hobby allowed Kate to show her adventurous side and continue an interest that was already held by her husband and other members of the Royal Family.
Kate Middleton's love of sailing
Duchess Catherine has been sailing for many years and has been given the opportunity to explore this hobby when she has been on a variety of overseas royal engagements.
Reportedly Kate Middleton taught George and Charlotte this incredible skill during their summer vacation and the young Cambridge children are also learning to love sailing as their mother passes down this lovely interest.
Carolyn Harris revealed that this hobby has been of royal interest for more than 100 years. "There have been a number of cases around Europe with members of royal families being part of the sailing team, lead members of the Spanish royal family were involved in the Olympics," continued Carolyn as she added, "it's another long-standing interest that's shared by many members of royal families across Europe."
Speaking about this hobby, Carolyn said, "It gives the public a sense of her interests before her relationship with Prince William, as she's become so very closely associated with the royal family, her relationship with William, I think it's something that the public finds interesting is these earlier interests that have continued."
Laura is a news writer for woman&home who primarily covers entertainment and celebrity news. Laura dabbles in lifestyle, royal, beauty, and fashion news, and loves to cover anything and everything to do with television and film. She is also passionate about feminism and equality and loves writing about gender issues and feminist literature.
Laura loves drinking and eating and can often be found trying to get reservations at London's trendiest restaurants. When she's not wining and dining, Laura can also be found travelling, baking, and hiking with her dog.