Kate Middleton has flourished into 'real deal' royal with Prince William to thank for lack of 'jealousy'
Prince William deserves credit for helping Kate to blossom into the royal she has become, according to an expert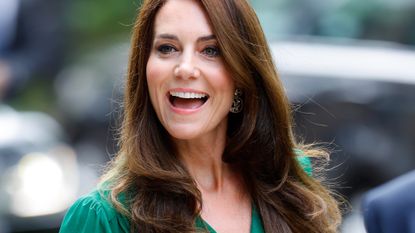 (Image credit: Getty Images)
Kate Middleton has blossomed to become a 'real deal' member of the royal fold, with an expert claiming it's down to Prince William's pride and lack of jealousy.
---
Prince William and Kate Middleton celebrated their 12th wedding anniversary with a sweet PDA picture moment last month, with the special milestone marking another magical year of marriage for the beloved royal pair.
Since tying the knot at Westminster Abbey in 2011, the Prince and Princess of Wales, who mainly reside at Windsor's Adelaide Cottage, have achieved incredible things in both their work and home lives, notably becoming parents to Prince George, Princess Charlotte and Prince Louis.
Meanwhile, the public watched Princess Catherine every step of the way as she transitioned from life as a non-royal to the fully-fledged member of The Firm we know her to be today - and a royal expert has claimed that Prince William has had a big hand in helping Kate become as confident and regal as she is.
Speaking to OK!, former BBC royal correspondent Jennie Bond explained that Kate also benefitted from years of being William's friend-turned-girlfriend before she became his wife, having met her now-husband at St Andrews University way back in 2001.
Jennie said, "Catherine has demonstrated in recent months and even years that she is the real deal. I think her strength is drawn from the fact that she was given such a long apprenticeship.
"Those nine or 10 years when she was allowed to see a little bit of what life will be like in the royal court were completely invaluable," she added.
"I suppose she seemed a little bit shy in the beginning. But I think if you compare that relationship to Charles and Diana, it strikes me that William deserves a great deal of credit because he has never appeared jealous of the attention that his wife gets," Jennie continued, praising the future King for his endless support of his wife.
"He has gently introduced her into what life would be like and has let her shine and constantly demonstrates that he's hugely proud of her."