Kate Middleton and Prince William mirror seriously special wedding day moment at Ascot
Kate Middleton and Prince William shared a sweet moment at Ascot that was reminiscent of their wedding day 11 years ago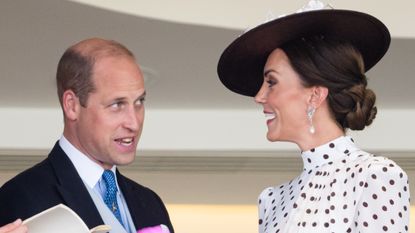 (Image credit: Photo by Samir Hussein/WireImage/Getty Images)
An adorable Kate Middleton and Prince William Ascot moment was spotted by royal fans last week, prompting them to compare it to a seriously special memory of the couple's wedding day.
The special Kate Middleton and Prince William Ascot moment sparked royal supporters to make a super sweet comparison.
A video likening a romantic interaction between the Duke and Duchess of Cambridge at Royal Ascot to footage from their wedding day has gone viral on TikTok.
---
As the future King and Queen Consort attended the much-anticipated Royal Ascot 2022 last week, the couple's subtly coordinated outfits caught the attention of royal fans.
A touching moment between the pair caught on camera at the iconic racing event, sparked a big reaction too, with eagle-eyed supporters noticing how reminiscent it was of their wedding day.
Duchess Catherine and Prince William, who are now proud parents to Prince George, Princess Charlotte, and Prince Louis, tied the knot at Westminster Abbey in April 2011, before heading to Buckingham Palace for a lavish reception with around 600 guests in attendance.
And as Prince William aided his wife in exiting their carriage upon arrival at Ascot, it provided an echo of nostalgia for onlookers, with the gesture being compared to the moment he helped Kate depart their wedding carriage upon arrival at Buckingham Palace after the world watched them say their vows.
A video shared by the @RoyalFamilySupporters on TikTok, that has amassed over 200,000 views so far, shows William taking Kate's hand to help her out of the wedding carriage alongside him doing the same at Ascot, over a decade on.
"11 Years Later 😍," a caption beside the viral video simply reads.
The comment section has been flooded with sweet remarks from royal fans swooning over the romantic look-back.
"What a beautifully sweet moment seen again years later," one wrote.
"William is the perfect gentleman❤️," another penned, while a third agreed, commenting, "Diana raised good boys."