Kate Middleton and Prince William keen to branch out from 'royal bubble' for slice of Harry and Meghan's 'American pie'
Kate Middleton and Prince William are thought to be ready for a 'slice of American pie'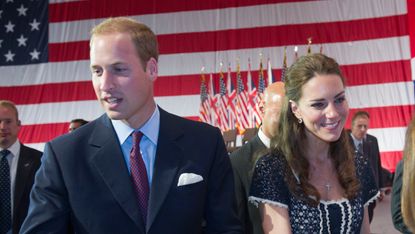 (Image credit: Getty Images)
Kate Middleton and Prince William are keen to branch away from the UK's "royal bubble" in a bid to switch their focus to the USA, according to a royal expert.
With Kate Middleton and Prince William set to jet off for a big trip to the USA this year, a royal expert has predicted that they are ready to focus on growing their royal profile across the pond.
Omid Scobie, who penned Harry and Meghan biography Finding Freedom, has commented that while the UK will always be home for the Duke and Duchess of Cambridge, they seem keen to branch over to the States.
This royal news comes after Meghan Markle's words to describe Prince Harry after their first date were revealed.
---
With Prince William recently confirming that the 2022 Earthshot Prize ceremony will be held in Boston, Massachusetts later this year, a royal expert has predicted that the Duke and Duchess of Cambridge are keen to focus on America, in light of Prince Harry and Meghan Markle's growing popularity across the pond.
Royal author, Omid Scobie, who co-penned the famous Finding Freedom biography about Prince Harry and Meghan Markle's departure from royal life, says that future King, Prince William, wants to make an impact away from his home nation.
Writing for his Yahoo column, Omid explained, "William is keen for his work to be seen and have an impact outside of the UK and the royal bubble.
"The charitable landscape in America is huge and he wants to have a presence."
Pointing out just how much Harry and Meghan are thriving, having swapped Frogmore Cottage in Windsor for their new California life, Omid continued, "Harry's popularity in Britain may be suffering, but his rise in the US has seen the Archewell Foundation receive huge attention from an impressive list of donors, and his charitable efforts and campaigning has quickly seen him acknowledged by the likes of Forbes and TIME, who named him and Meghan two of the world's most influential people."
Highlighting that home for the Cambridges, who currently reside between Kensington Palace and Amner Hall with plans to move over to Adelaide Cottage, will always be in the UK, Omid added that Kate and William don't want their impact to end there.
"Though their focus will always be in the UK—where they are currently preparing to move their family base from London to Windsor—it's clear the Cambridges have realised a slice of American pie would be nice, too.
"Who can blame them? Interest in the Royal Family on the world stage has long been an essential asset to Britain's appeal abroad."