Kate Middleton achieves major new milestone: 'She doesn't just talk the talk, she walks the walk'
Catherine, Princess of Wales can now add published writer to her impressive resumé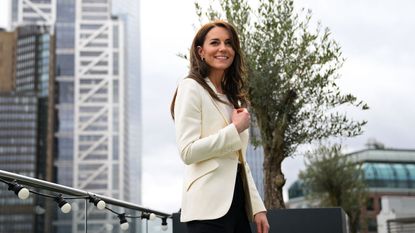 (Image credit: DANIEL LEAL/POOL/AFP via Getty Images)
Catherine, Princess of Wales celebrated a major achievement this weekend as she continues her work with early years development. The Princess wrote an article for the Financial Times, publishing new insight and research and setting out a clear vision for the cause close to her heart.
Kate Middleton published an insightful article for the Financial Times this weekend, pushing ahead with her important work in early years development
To support the article, the Princess shared a new conversation with a top CEO, where she channelled a true working girl spirit in chic blazer and blue jeans
---
When the Princess of Wales sets her mind to something, she really delivers.
Fans are in awe of Kate this weekend as she launches her Business Taskforce for Early Childhood, urging more businesses to understand and support parents and caregivers in the workplace.
To support her mission, Kate wrote for the Financial Times, showcasing a well-researched and insightful study into the effects a parent or caregiver's wellbeing has on early childhood.
The Princess is urging businesses to understand that, in supporting working parents' well-being and livelihoods, they are investing in "a down payment for our collective future."
This is because, the healthier a parent or caregiver, the better the early development of a child.
Kate is hoping global firms who have joined her taskforce will be the catalyst for change and encourage firms across the country to train and help staff to maintain their social and emotional welfare, aiding their work and home life.
In her article for FT, Kate writes, "Our resilience, flexibility, ability to manage stress and remain motivated when facing challenges, are all shaped by the foundations we build in early childhood. However, not enough emphasis is placed on social and emotional development or on building environments which nurture these skills, during childhood and beyond."
"Parental wellbeing is the biggest single factor in determining a child's wellbeing, and we know that becoming a parent places additional pressure on mental health. Nearly 75 per cent of people find parenting under-fives stressful."
"We also know that parents make up a significant part of the UK workforce — 76 per cent of mothers and 92 per cent of fathers with children are in work."
Proving she knows what she's talking about, Kate left businesses with two tasks.
"The first is to prioritise creating working environments that provide the support people need to cultivate and maintain their own social and emotional wellbeing.
"The second is a more concentrated focus on the social and emotional development of our youngest children."
In support of her article, Kate also shared a new conversation with a supermarket CEO on the official social media account for the Prince and Princess of Wales.
For the video – where Kate discusses how so many important soft skills are learnt in early years – the Princess cut a casual figure in a pair of blue jeans, a white top and a white blazer.
Fans loved seeing this side of the Princess.
"You have to hand it to the Princess. She has got so many top CEOs on board. She doesn't just talk the talk. She walks the walk."
Another added, "Catherine always has such a genuine passion for this and it shines through anytime we hear her speak on such an important topic – from all parents and carers, thank you."
Perhaps picking up on Kate's practical vibes with her outfit, one fan hilariously wondered if Kate had picked a supermarket for her video chat with the CEO as she was going to "pick up a few bits while she was there."
Jack Slater is not the Last Action Hero, but that's what comes up first when you Google him. Preferring a much more sedentary life, Jack gets his thrills by covering news, entertainment, celebrity, film and culture for woman&home, and other digital publications.
Having written for various print and online publications—ranging from national syndicates to niche magazines—Jack has written about nearly everything there is to write about, covering LGBTQ+ news, celebrity features, TV and film scoops, reviewing the latest theatre shows lighting up London's West End and the most pressing of SEO based stories.