James Middleton just shared the most adorable photo from self-isolation
Aw! 🐶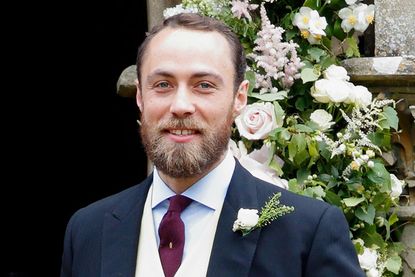 (Image credit: Getty)
The Duchess of Cambridge's brother, James Middleton, has been sticking to advice that we should all be social distancing amid the coronavirus outbreak.
Duchess Catherine's brother, James Middleton, has been complying with social distancing advice amid the coronavirus pandemic.
But he proved he's been far from lonely during self-isolation with a heartwarming photo yesterday.
This royal news (opens in new tab) comes after the first royal with a case of Covid-19 was revealed (opens in new tab).
Luckily, James has some super cute pals to keep him company during self-isolation.
The 32-year-old entrepreneur took to social media yesterday to post an utterly adorable image from his time spent indoors.
In the photo, the renowned pooch lover can be seen sitting around the dinner table, enjoying a meal with his furry friends.
Four of James' nine pups are perched up at the candle lit table, wearing pink bibs, with a plate of kibble in front of them. Our hearts!
'Socialising while social distancing 🍷🍝🐾 Who wants to join? #bestdinnerpartyever,' James penned beside the Instagram upload.
Of course, heaps of James' followers took to the comment section to swoon over the pic of his four legged companions.
'Your babies are so beautiful! Such good table manners too,' one wrote.
'The only dinner party I want to go to 😍,' gushed another, while a third chipped in, 'Oh my God! I love this!! 😍 🐶🐕 cuties!! 🤗.'
James has spoken out in the past about how his bond with dogs has helped him battle tough mental health issues.
'My own dogs played a vital role in my recovery from clinical depression,' he wrote on social media recently.
'In light of this I want to celebrate the important role dogs play in our lives and the unconditional love and support they give us.'
It's also been reported that James is set to star in his very own documentary series called James Middleton's Super Dogs, that will delve into his love for his pets and explore how they saved him from depression.
It is also believed the show will follow James meeting others who have been helped through dark times by their pooches and look into how they impact our mental wellbeing.