Duchess of York rides through airport on suitcase scooter in hilarious video
We love this!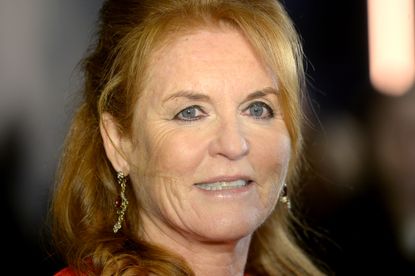 (Image credit: Getty)
The Duchess of York, Sarah Ferguson, left fans laughing when she took to social media to share a video of her brilliant airport gadget.
In the video posted on her Instagram account, the Duchess can be seen riding through Beijing airport on a scooter suitcase.
Looking elegant in an emerald green blazer and black skirt, the red haired royal proudly rode the nifty piece of luggage around the check in desks.
Captioning the post, Fergie wrote, 'When in Beijing Airport....' If you can keep your head when all about you, are losing theirs and blaming it on you'.....go and get a scooter suitcase! #china.'
Commenting on the upload, plenty of the Duchess' fans applauded her sense of humour.
'Great, so funny, the world needs more like you.❤️🤣🤣,' one wrote.
'This is fantastic. Lol. Have fun!! 🏁🏁,' added another.
A third said, 'This is the post I've always wanted to see. 👏🏻,' while a fourth penned, 'Don't you just love Sarah, amazing personality filled with love and kindness ❤️❤️.'
This comes after Duchess Sarah opened up about undergoing cosmetic surgery (opens in new tab) before her 60th birthday, which was on 15th October.
She explained that she'd got some laser treatment ahead of her daughter Eugenie's wedding, back in October 2018.
Fergie told the Daily Mail, "The happiness was shining out of me because my daughter was getting married. I was so glad. I love Jack. When I'm passionate about anything, my eyes shine.
"Above all, it was being joyful for Eugenie that made me look good. But I'd had some laser treatment on my face which helped, too."
Although she has previously gone under the needle for Botox "a long time ago", the Duchess of York admitted that she now opts for pain-free, non-invasive laser treatments, which can be done in just 90 minutes.
Preferring to undergo the "6 dimension" laser facelift offered by her long time friend Dr Gabriela Mercik at her Harley Street clinic, she explained, "I don't like the frozen look. I'm so animated and I like to be myself. I don't like the thought of needles and am very glad if I look well and happy."