This is why everybody is talking about this picture of the Duchess of Cambridge at the BAFTAs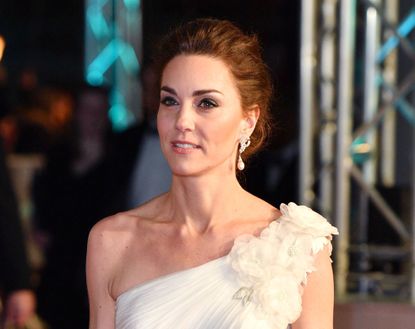 Everybody wants that winning photograph to take home after a special evening, and it seems that 18-year-old Rachel Anvil managed to do just that after spending the night on the BAFTA red carpet.
The teenager captured the Duchess of Cambridge arriving at the BAFTA film awards and the photographs are quite spectacular.
In one of the photographs, Catherine is looking straight into the camera and is smiling excitedly, showing a playful side the paparazzi's glare often misses.
Rachel posted pictures she had taken of Prince William and Catherine on social media with the message, 'The Duke and Duchess of Cambridge last night at the @BAFTA taken by meeeeeee #katemiddleton #PrinceWilliam #BAFTAs #fabfour'
The post received a lot of love and support with one person saying, 'Wow, gorgeous shots! Very lucky you got so close! Most gorgeous couple!' while another said, 'Love this!!!!'
A final person said, 'You have captured such a natural expression from Kate! It looks like she is acknowledging an old friend, well done!! Xx'
Rachel told Catherine she looked beautiful and the Duchess responded with a huge grin - such a fantastic moment to capture.
But it seems capturing natural photos of the royals runs in the family for Rachel. Her mum, Karen, was the amateur photographer behind another very famous picture of the Royal family.
Karen became well known for her photography when she captured Prince William, Catherine, Meghan and Prince Harry at the Christmas Day morning church service in Sandringham, Norfolk.
Karen's photograph made the front pages of some of the nation's biggest newspapers including the Sun, Daily Mail and Daily Telegraph and she was contacted by over 50 publications requesting to use the snap. Karen has reportedly made thousands of pounds from the photograph.
The Duke and Duchess of Cambridge walked the red carpet at the BAFTA film awards, which were held at the Royal Albert Hall on Sunday evening. You can read more about the lovely couple's evening here (opens in new tab).