Duchess of Cornwall makes cheeky joke about being a 'good wife' to Prince Charles
She couldn't resist a bit of banter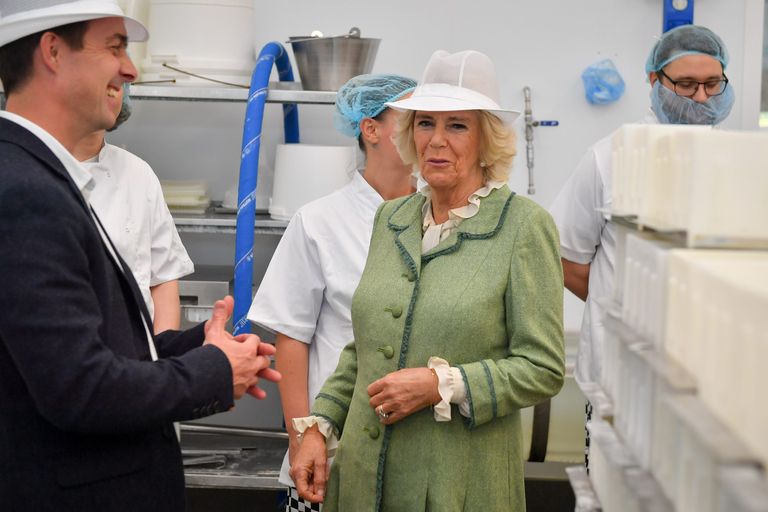 Prince Charles may be away in Japan, but that hasn't stopped the Duchess of Cornwall having fun.
Duchess of Cornwall joked about being a "good wife" to her husband on a recent tour of The Bath Soft Cheese Company.
While being shown around the Somerset venue, Camilla was handed a gift box filled with four different cheeses.
She told employees she would endeavour to same some for Prince Charles - who is abroad at this moment in time.
She said, "He's away in Japan at the moment but I might be a good wife and keep it to share with him on his return."
Prince Charles is currently in Tokyo attending an enthronement ceremony for Emperor Naruhito, but the Duchess did not attend due to her prior engagements in Bath.
Her Bath itinerary included touring the cheese farm and visiting the Royal United Hospital, where she opened the new Royal National Hospital for Rheumatic Diseases and Brownsword Therapies Centre.
Camilla also has a fear of flying, which is also another reason she sometimes doesn't accompany her husband on visits abroad.
Managing director of the cheese company, Hugh Padfield, said the Duchess of Cornwall's visit was "such a privilege."
He added that she was "very complimentary" about the products.
Following her lighthearted marital comments, Padfield also revealed the Duchess said the Merry Wyfe cheese was her favourite.
He said, "Merry Wyfe is washed with cider made on the farm every other day for four weeks. It was mentioned a couple of times that Prince Charles is a fan of smelly cheese.
"He previously tried our cheese and she said 'I remember him having that - he really enjoyed it'."