The one thing Duchess Camilla makes sure to never travel without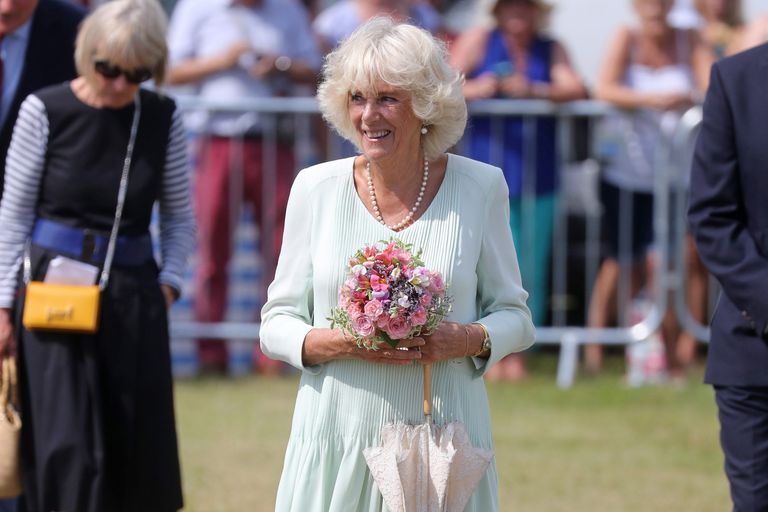 By Amy Hunt
The royal family travel around the world more than most, so it's no surprise that they're always prepared for an overseas trip.
While the royals have certainly got staff to help them organise their suitcase and belongings, just like the rest of us there are also thing that they always make sure to bring along with them when they travel away from home.
And for the Duchess of Cornwall, it seems that her travel essential is something she uses to keep her health in tip-top shape while she's away.
MORE:Why the Queen's annual stay at Balmoral will be very different this year
Whilst on a trip to Singapore in 2017, the Express revealed that Camilla told a travel guide that she never forgets her yoga block - which helps to support your body while you complete the practise.
Royal biographer Robert Hardman shared with fans the details of what happened in his 2018 book, 'Queen of the World'.
He wrote, 'The Duchess is touring a community centre where she turns her hand to art, flower-arranging and cooking, and drops in on a yoga class for senior citizens,
"She spots a 'back brick' and tells her guide that she never travels without one."
A yoga block is said to support, stabilise and align your body during yoga. Many who practise it use the block to sit on, so that they can achieve a straighter spine, while others use it to help with the various yoga positions.
According to the Express, the Duchess of Cornwall also spoke about the benefits of yoga at the visit during her time in Singapore. She reportedly said, "It's very good for you yoga, isn't it? I do a bit of yoga. A bit of yoga and a bit of Pilates."
MORE:Netflix confirm November release date for The Crown
"It's very good for you as you get older, it makes you less stiff - good for your muscles. It makes you much more supple."
Camilla isn't the only royal who's a fan of yoga though. Meghan, the Duchess of Sussex, has long been vocal about her love of the exercise - even revealing on her tour of Australia that she practised it whilst pregnant.
In an interview with Best Health magazine before she become a Duchess, she explained that her mother got her into it.
She said, "Yoga is my thing. My mom is a yoga instructor, and I started doing mommy-and-me yoga with her when I was seven. I was very resistant as a kid, but she said, 'Flower, you will find your practice – just give it time.' In college, I started doing it more regularly."