Duchess Camilla opens up about tragic memory of her mother—"we just watched her shrinking before our eyes"
The Duchess of Cornwall shared her experiences in aid of World Osteoporosis Day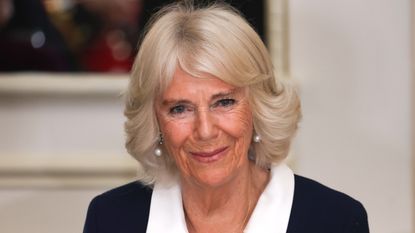 (Image credit: Chris Jackson - Pool/Getty Images)
Camilla, Duchess of Cornwall spoke with Gloria Hunniford about her mother's experience with osteoporosis. The Duchess wants to raise awareness of the condition ahead of World Osteoporosis Day in the hopes that younger people can educate themselves on the causes, how to prevent it and how it can seriously affect people.
Camilla is advocating for more awareness of osteoporosis, especially for younger people
"I think we all think we're immortal, don't we, when we're young… I'd like to see more young people being educated", Camilla told Gloria Hunniford in an interview for the BBC
In other royal news, Duchess Camilla recently opened up about receiving threatening phone calls.
In an upcoming interview with Gloria Hunniford for the BBC to mark World Osteoporosis Day, Camilla, the Duchess of Cornwall, spoke about her experience of watching her mother suffer with the condition.
Urging for more awareness to be brought about regarding the condition, the Duchess described some of the pain and suffering her mother would go through, saying, "Occasionally when she moved or you touched her she literally screamed."
Camilla acts as president of the Royal Osteoporosis Society and believes a greater understanding of the condition from a young age will make it easier for those struggling.
She said of the lack of awareness, "It was terrible because we didn't know anything about it, so at some point we thought 'Well, is she making a great fuss about all this?'"
"I remember when a friend of hers came in one day just to give her a hug, her rib broke. It was as bad as that."
What is osteoporosis?
The NHS explains that osteoporosis is a health condition that weakens bones, making them fragile and more likely to break.
It develops slowly over several years and is often only diagnosed when a fall or sudden impact causes a bone to break (fracture).
Osteoporosis affects over 3 million people in the UK alone.
What are the causes of osteoporosis?
Losing bone is a normal part of ageing, but some people lose bone much faster than normal.
Women are more likely to develop osteoporosis, especially in the first few years after the menopause.
Other factors that could contribute to the development of osteoporosis include...
Taking high-doses of steroid tablets for a long period of time
Other medical conditions such as hormone-related conditions
A family history of osteoporosis
Long-term use of certain medicines that can affect bone strength or hormone levels
Having or having had an eating disorder such as anorexia or bulimia
Having a low body mass index (BMI)
Not exercising regularly
How to prevent osteoporosis
If you fall into a high-risk category for developing osteoporosis, there are things you can do to delay or prevent the condition.
These include...
Exercising regularly to keep bones strong
Eating foods rich in calcium and vitamin D
Drinking less alcohol and giving up smoking
Camilla's interview with Gloria Hunniford will be broadcast on Morning Live on Monday, 25 October at 9.15am. Viewers can tune in on BBC One or through BBC iPlayer.
Jack Slater is not the Last Action Hero, but that's what comes up first when you Google him. Preferring a much more sedentary life, Jack gets his thrills by covering news, entertainment, celebrity, film and culture for woman&home, and other digital publications.
Having written for various print and online publications—ranging from national syndicates to niche magazines—Jack has written about nearly everything there is to write about, covering LGBTQ+ news, celebrity features, TV and film scoops, reviewing the latest theatre shows lighting up London's West End and the most pressing of SEO based stories.