The Countess of Wessex steps out in gorgeous satin green flares - here's where to buy them
She even coordinated her outfit with her husband!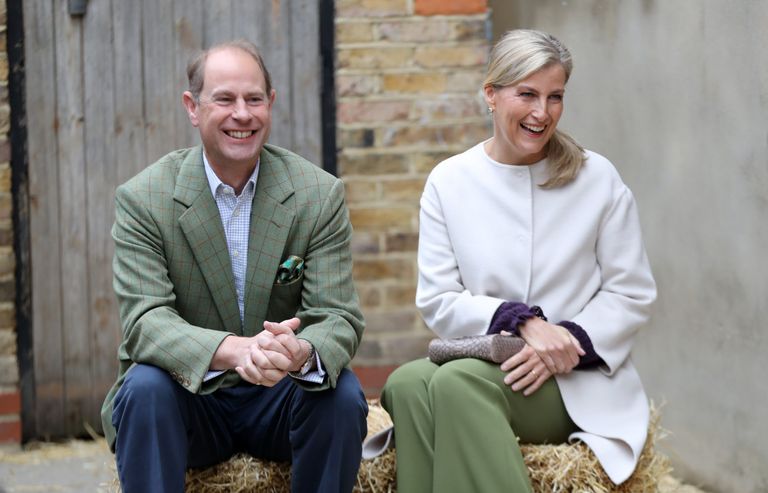 (Image credit: PA)
Sophie Wessex has stepped out in a gorgeous outfit, which, naturally, has got fans talking.
The Countess of Wessex was seen out and about in some gorgeous green satin trousers last week.
She even coordinated her green garment with her husband the Earl of Wessex.
During an engagement at Vauxhall City Farm with her husband Prince Edward on Thursday, the Countess of Wessex wore a beautiful pair of green satin trousers, by Galvan London. The 55-year-old paired them with a timeless MaxMara coat, a contrasting maroon knit and brown boots.
What's more, the high waisted olive green trousers - which cost £535 at Farfetch - coordinated with her husband's muted green blazer.
Fans were quick to comment on this factor on the royal's Instagram page.
One wrote, "I <3 how color coordinated they are. Sophie's influence, I'm sure."
While another added, "What brilliant photos and love the Countess's style."
Someone else commented, "Great couple and they represent the family so well! I love the way her slacks match his jacket!"
During the outing, Edward and Sophie learnt about the organisation's community engagement programmes in action - joining staff, volunteers, local residents and schoolchildren as the farm marked the start of Black History Month.
We already know the Countess has some brilliant pieces in her wardrobe - many of which can be found on the high street.
It looks like it's been an eventful week for Sophie, too. She joined Tomas Cardillo-Zallo, a member of Mencap's Learning Disability Running team, for the first 1.5 miles of his virtual London Marathon.
Sophie, who has been a patron of Mencap since 2004, wore stylish black running leggings and a pink and white marathon vest logo.
She said, "It was an honour to join Tomas even just for a small part of his triumph today, as he completes the London Marathon in support of Mencap. Tomas has shown what people with a learning disability can achieve with the right support. He is an inspiration!"
Lizzie Thomson is a regular contributor to woman&home, and also contributes to Metro.co.uk, Ideal Home, Culture Trip, and Evening Standard, covering all things lifestyle.